Thanks Giving…
Yes. I intentionally spelled it using 2 words so we can think about what it really means.
I have been reading countless posts about being thankful. My 'thankful' list is lengthy and includes family, friends and my health. These are things never to be taken for granted.
What I have not seen much of are posts about giving. I believe in 'giving' forward when I can. Sometimes it is as simple as holding the door for someone who needs it. Giving forward can include time, money, lending an ear to someone who needs to talk and just being there when someone needs you.
While we are listening to Christmas music before sitting down to feast on Thanksgiving dinner perhaps we can take a moment to 'give forward' to someone who needs it. It will no doubt make their Thanksgiving much happier. 🙂
From my family to yours: Happy Thanksgiving!
Until next time…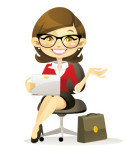 Geek Grandma
Filed in: Holiday Tags: cheryl therrien • featured • grandmother diaries • grandmotherdiaries • Thanksgiving