What do cameras and the butterfly effect have in common? Everything effects everything. Seriously…
Everyone knows what a crap photographer I am. Maybe not your words, but true all the same. I decided that I want to change that in 2015. Given that traveling is now a priority on our 'bucket list' I want to be able to take photos that I can actually share with people without being embarrassed. Yes. Not to mention that you, my readers, will appreciate giving your eyes some relief when reading my blog posts.
Research
I had no idea what a huge endeavor it was going to be to find and upgrade to a semi-professional camera. Why? Because I am a newbie to anything but point and shoot cameras or using my phone to capture moments. Well that's obvious, right? I have had to learn about things like 'IS' & 'STM' and why I would want them. Big sigh… It's another whole new language to learn.
Back to what I said earlier, everything effects everything. The more you learn about cameras the more you learn about how one aspect of taking photos effects another aspect of taking those same photos. One of the challenges I faced was narrowing down the list of features that were available in a camera to what I actually need to take the photos I want to take. Sounds simple? Not so. Not when everything effects everything else.
My research took me to photography blogs, Amazon reviews, camera comparison reviews, and even YouTube. I have invested what must amount to hundreds of hours trying to narrow down the list of cameras and options to find what should be appropriate for my needs.
Conclusion
So what did I finally settle on? The Canon Rebel T5i. There was a package deal where you receive the standard lens along with a zoom lens for considerably less than if you purchased them separately. I won't use the zoom lens that often, but I will use it.
I have only just received it so I have not had a chance to do much of anything with it yet, but for setting the date and such. So fingers crossed this camera can help transform this almost hopeless non-photographer into at least a resemblance of a photographer. If not, at least I will have some fun trying… 🙂
What kind of camera do you use to take photographs?
Until next time…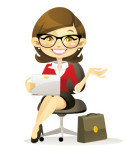 Geek Grandma
Filed in: Photography Tags: canon camera • cheryl therrien • featured • grandmother diaries • grandmotherdiaries