Kerri: A Tribute to our first 'Fur Child'
Kerri was a Welsh Terrier. They are a rare find in this Country since they are only bred to a waiting list. If there isn't an owner waiting, there are no puppies born. So how did we find Kerri? As it happens her owner's were building a house and it would not be ready when Kerri was ready to come home. We wasted no time in going to visit and adopting that puppy who needed a home. We bonded immediately. Kerri was born on Valentine's Day. She was our wonderful Valentine.
From that first day until her final day having Kerri in our household was more like having a toddler than a dog. She was too smart for her own good in many ways. Don't try to hide medication in her food because she will root it out and discard it. How did she know it was there? No idea… She just knew.
Kerri seemed to understand when you spoke to her. We also have 2 American Eskimo fur children and although we love them immensely, they are dumb as door knobs in comparison. You could talk to Kerri and she would respond accordingly. She may not like what you had to say… You see, Kerri never met a treat she didn't like. If she finished hers before the others finished theirs, well let's just say we had to run interference.
Kerri loved to play tug of war. Welsh Terriers were bred for fox hunting so their jaws are extremely strong. How strong you ask? Kerri could grab hold of the rope we played with and I could lift her up in the air by those powerful jaws. She loved it! She also loved to run. Throw a ball and she had it back to you before you could blink an eye. Then of course you had to wrestle it from her because who could resist that tug of war game?
Kerri was a well travelled fur child. We must have moved house about 6 times while she was with us. She never tired of it. She was happy as long as she was with us.
Kerri's enthusiasm never diminished. Her tail was always wagging even when she no longer had the energy for it. She was more concerned for her people than for herself.
Kerri struggled with health issues in her final days. She had hip dysplasia that would have taken another dog down much more quickly than it did her. It had to be sheer determination to live with that kind of discomfort for so long. We made the decision that as long as she was still getting joy out of life we would let her continue to spend her days with us and keep her as comfortable as possible. She so wanted to play, but we could not allow it. We stopped grooming her, but for minimal maintenance. It was just too stressful for her.
Kerri leaves behind her best friend Zeus. Zeus joined our family when Kerri and Zeus were both 3 years old. Zeus' owners left him at the shelter when they moved. When we found him he was dying of a broken heart. Seriously… Kerri and Zeus quickly became best friends. He was at her side until the end.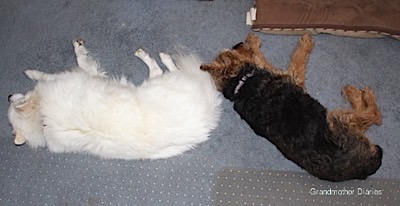 We held Kerri's hand as she made her transition.
Kerri will be missed by all of us. She brought so much joy into our lives. Kerri will always have a special place in our hearts.
This poem is for you Kerri…
Just this side of heaven is a place called Rainbow Bridge.
When an animal dies that has been especially close to someone here, that pet goes to Rainbow Bridge. There are meadows and hills for all of our special friends so they can run and play together. There is plenty of food, water and sunshine, and our friends are warm and comfortable.
All the animals who had been ill and old are restored to health and vigor. Those who were hurt or maimed are made whole and strong again, just as we remember them in our dreams of days and times gone by. The animals are happy and content, except for one small thing; they each miss someone very special to them, who had to be left behind.
They all run and play together, but the day comes when one suddenly stops and looks into the distance. His bright eyes are intent. His eager body quivers. Suddenly he begins to run from the group, flying over the green grass, his legs carrying him faster and faster.
You have been spotted, and when you and your special friend finally meet, you cling together in joyous reunion, never to be parted again. The happy kisses rain upon your face; your hands again caress the beloved head, and you look once more into the trusting eyes of your pet, so long gone from your life but never absent from your heart.
Then you cross Rainbow Bridge together….
Author unknown…
2/14/2001 – 11/29/2014
We Love You Sweet Girl! Always!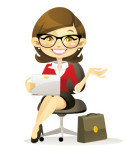 Geek Grandma
Filed in: Uncategorized Tags: cheryl therrien • featured • grandmother diaries • grandmotherdiaries • tribute