#Interstellar
My husband and I went to see Interstellar. I had no real expectations about the movie, but I enjoy space and science fiction. It has a great cast so I had high hopes that it would be good. I have read other blogs about how they either loved it or they hated it. There seems to be no middle ground for this movie.
We loved it. To us the story line itself took a secondary role to the science involved. The story just helped explain the science.
The Science
If you have ever seen 'Down the Rabbit Hole', then you know how difficult it can be to get your head around quantum physics and that whole field of science. Couple that with how 'Time' relates to our world and you really have some science to wrap your brain around. Remember that we as humans perceive time as linear. Bring in the concept of traveling through a worm hole in space and linear time goes out the window.
I found this video on CBS news that explains a bit about the science concepts in the movie and how realistic they may be.
After seeing the movie I began to google articles about the field of quantum mechanics, etc. It fascinates me.
Wired has a really good, but lengthy, article on Quantum Mechanics. The NYTimes published an article on Quantum Entanglement. PBS has a good article about particles versus waves in Quantum Mechanics, and yes it matters.
If you are not already familiar with the theories around time and relativity, I invite you to research the subjects. If nothing else, it will help you understand the movie better should you choose to see it.
Conclusion
If you don't care much about the science or it's too difficult to get your head around, you might find 'Interstellar' lacking. The story would probably not be enough to encourage you to like it. There are also a smattering of conspiracy theories included, as this article on CNN notes.
Even the movies bring this up. "We used to be explorers and pioneers," says a character in the just-released science fiction spectacular, "Interstellar." "Now we're a generation of caretakers." Christopher Nolan's film conceives a potential future in which what's left of NASA has gone underground to figure out options for humankind literally choking to death on ecological decay on Earth. In this future, it seems as though the moon-landing-denial constituency has gained such a foothold in the public schools that a student can get in trouble for suggesting we did in fact land on the moon.
The graphics were spectacular. I don't think anyone can deny that. This is a long movie. I think it's around 3 hours. For us the time went by quickly.
Have you seen this movie? What did you think of it?
Until next time…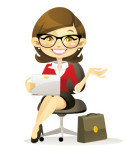 Geek Grandma
Filed in: Reviews Tags: cheryl therrien • featured • grandmother diaries • grandmotherdiaries • interstellar