#Recycling…
I have been a supporter of recycling for as long as I can remember. Why throw away into the trash what can be recycled and used again?
If you have ever seen a landfill, you would feel the same way I do. How much waste can we continue to pump into our environment without paying a high price from the effects of doing so?
How many of us are still sticking our heads in the sand preferring ignorance and doing nothing over being educated and doing something? How difficult is it to put that aluminum can in the recycle bin rather than the trash bin? I realize that I am over simplifying here. There are still areas where recycling is difficult. But those areas that make it simple, like curb side collection, why not take advantage of that service?
When I began researching facts for this post I found similar information on almost every site I visited. What I did not find were current statistics. I suspect that recycling rates are higher now than in previous years. I could not find anything updated since 2011. We can extrapolate recycling rates from past numbers. I am not going to bury you in statistics, but I will provide a couple of interesting tidbits.
Facts you may not be aware of:
Glass never wears out and can be recycled forever.
Glass left in a landfill will take approximately 1 million years to break down.
An aluminum can that is recycled can be a new can in as little as 60 days. Can also be recycled forever.
An aluminum can in a landfill will still be a can 500 years later.
If you thought recycling does not matter, perhaps after reading those facts you will think again.
I will admit that there are conflicting reports on just how long items remain in landfills before breaking down. Whether it's 4,000 years or a million years a glass bottle does not belong in a landfill. Yes. That's my opinion.
As a technology enthusiast I never discard anything electronic into the trash. For example: If it's a phone, it is donated to a worthy cause. I go out of my way to ensure that none of my electronic waste ends up in a landfill.
I don't know about you but I feel good when I am recycling. I know that I am not contributing to a problem, but rather helping to mitigate a problem. For us it is as simple as having a trash bin and a recycle bin. Each week we put them out to the curb and they are collected. Our service separates our recyclables so we don't have to. We have lived in an area where we had to separate and then deliver our recyclables to the appropriate bins ourselves. We still made the effort because the alternative is just unacceptable.
For more information visit the United States Environmental Protection Agency website.
What are your thoughts on the matter? Do you make an effort to recycle when it is possible to do so?
Until next time…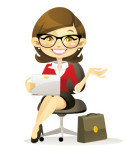 Geek Grandma
Filed in: Uncategorized Tags: cheryl therrien • featured • grandmother diaries • grandmotherdiaries • recycle