I waited a long time before deciding to post this. Why? I wanted to be sure it was not just the mood I was in that day and that I still feel the same way about this that I did that day. Sitting here on the beach in Jamaica… Yes. I still feel the same way.
Rant: Apple iPhone Battery Replacement Program

Image credit: "IPhone 5s" by Zach Vega – Own work. Licensed under Creative Commons Attribution-Share Alike 3.0 via Wikimedia Commons – http://commons.wikimedia.org/wiki/File:IPhone_5s.png#mediaviewer/File:IPhone_5s.png
Warning: Rant coming…
As with any smart phone the first thing that fails is the battery. Most vendors make you sign a 2 year contract while knowing full well your battery will fail before your contract is up and you can upgrade. My iPhone has been no different…
I have an iPhone 5. I began using my mophie case to extend the battery life. Apple has a battery replacement program for certain serial numbers. I ran the check and found that my serial number qualified. So I made an appointment at our local Apple store.
I arrived to a packed store and got checked in. Good thing I made an appointment or who knows how long I would have waited to be disappointed.
The tech checked my serial number and found that my iPhone qualified. He told me it would take about an hour to replace the battery. Cool, right?
Then the tech ran 'diagnostics' and said that my battery was fine. He tried to tell me that my mophie case was probably the cause of my issue. Uh huh… I only began using it when my battery began to fail.
He went on to explain to me about blue tooth and location finding apps, etc that drain my battery. I am thinking to myself that I am no stranger to technology. I understand and employ good battery saving practices. I am after all 'Geek Grandma' for a reason. When he felt I had been sufficiently schooled he began to complete our appointment.
He sent me a link to restore my phone to factory, then I would download only those apps I wanted from my backup. This action is to eliminate any apps causing issues with my battery. He also informed me that my phone was still under warranty for the issue I was having. Yeah, right. That expired like a year ago.
So I left the store with no new battery and a lesson in stuff I have known like forever. Was that a scam to not have to replace my battery or what? I think so. What a waste of my time.
End of rant.
This experience has not turned me off of Apple. I still love my Mac and my iPhone. When it's time to upgrade I will choose another iPhone. I am not an Apple fan girl. I just like my stuff to work and play well together. Apple does it better than anyone else thus far.
What do you think? Am I being unreasonable to think that my battery should have been replaced?
Until next time…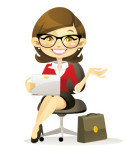 Geek Grandma
Filed in: Technology Tags: cheryl therrien • featured • grandmother diaries • grandmotherdiaries