MS Surface as a travel device for working 'on-the-go'
We purchased the MS Surface Pro 3 as a 'desktop' device to use while traveling on vacation. We needed something more than a tablet, but we did not want to purchase a formal laptop. The MS Surface is lighter to carry and can be used as a tablet when the desktop is not needed. Add to this the options to connect to a TV and watch your own shows and this makes a great device.
My husband and I have had different experiences using the Surface. We purchased the keyboard to attach to it. I find it a bit finicky using the track pad. I need the track pad so I can select options a bit more easily than touching the screen, like in MS Word. I find many times that the charms bar on the right opens when I did not intend it to, or the available windows open on the left side when I did not intend it to. My husband has not experienced any of this. Perhaps it's because we each type differently. He is a hunt and peck typer and I a 'proper' typer. Pure speculation on my part…
I did purchase a mouse built specifically for use with the Surface. It is Blue Tooth and frequently loses its connection. When it is connected and working as it should it is great. It means that I do not have to deal with the track pad. I am not sure whether it's the mouse with the issue or the Surface, but either way it's annoying when the connection is lost so frequently.
We have learned some new tricks as well. Like using the Alt key along with arrow keys on the attached keyboard to move back and forward with web pages. Much easier than using the track pad or the mouse.
The MS Surface is a great machine for our needs. In the past I used a Mac Book Air when we traveled. I can honestly say that I prefer the Surface over the Air. Yeah, I know. I am a Mac Girl. But for a travel machine it is hard to beat the Surface.
What about blogging from the Surface? So far it has worked out great. I find it easier than trying to blog from a regular tablet or my phone. Much easier. It even has tools built in to deal with capturing screen shots. Much easier tool to use than in past versions of Windows. The new tool is similar to using the screen capture on a Mac.
Using the Surface outside is challenging, no doubt about it. But as with all challenges I find a way around it and make it work.
What device do you use when you travel? Tablet? Laptop? Phone? Combination of devices?
Until next time…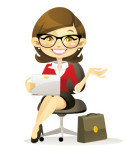 Geek Grandma
Filed in: Technology Tags: cheryl therrien • featured • grandmother diaries • grandmotherdiaries • MS Surface • technology