#Eye Exam: Have You Had One Recently?
I don't about you, but I tend not to get an eye exam unless I am having trouble seeing. Yes. I am bad. How do you practice good preventive care if you don't get an exam? Big sigh…
When we are younger eye exams go hand-in-hand with having to have your yearly physicals and vaccinations for school. But when we are adults no one requires us to take care of ourselves. It is still a choice. Many health care plans offer discounts if you follow their preventive care and get those physicals done.
I find that older adults, like me, typically don't get preventative care. They see their physician if they have a problem.
My eyes are unique. Seriously… There are very few people who have my eye conditions. I have to see an eye specialist who not only understands my conditions, but knows how to both treat them and how to look for anything unusual.
Kansas City Eye Clinic
When I began looking for an ophthalmologist in my area I found the Kansas City Eye Clinic. They either offer the services I need or they refer out to those who do. They do not refer out much because they have so many specialists onsite.
I made what I thought would be a routine eye exam appointment. I went through all the normal testing. Then my doctor began to discuss with me what she found. First and foremost we agreed that because of my conditions we needed to establish a baseline to refer back to for future exams. She will request my past records to see if anything was noted on them regarding the conditions she found. I also scheduled another follow up appointment for further testing.
Until all the testing is completed we will not know if treatment for certain findings is indicated. I am not having a problem right now so it is early stages if it is an issue.
Once we have all of the above mentioned items addressed I will also know what my future treatment options are, if any are necessary.
I was surprised by some of the findings, not surprised by others. This exam really drove home the point that having regular eye exams should be part of my preventative health care. Once you begin losing your sight it is really too late to address some of the issues that cause loss of sight.
One of the eye diseases that is tested for is Glaucoma. Glaucoma is one of the leading causes of blindness in the United States according to the Mayo Clinic. By the time you experience symptoms it is basically too late to do anything about it. The only way to know is to be tested. That's why routine eye exams are crucial.
Most of us take our sight for granted until it is threatened. How important is your sight to you?
Until next time…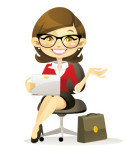 Geek Grandma
Filed in: Aging • Health Tags: cheryl therrien • featured • grandmother diaries • grandmotherdiaries