#Manners & Traffic Rules
What do manners and traffic have in common? Apparently not much.
Like most of us I drive to work each day and have to navigate the rush hour traffic. As I dodge those who cut in front of me and change lanes without using turn signals I began to understand why the term 'road rage' came into existence.
Turn signals are used to indicate changing lanes or actually making a turn. Seriously… that's what they are designed for. How many people know what they are designed for and how to use them? Apparently not many if the rush hour traffic is any indication.
Road signs are meant to guide and direct you. 'Stop' means you stop. 'Don't Block The Intersection' means don't block the intersection. It seems really simple, but how many drivers actually read and follow the signs? Again, from my experience not many.
Following road signs and the 'rules of the road' are essentially 'manners' you use when driving.
According to Wikipedia:
'Manners' is a term usually preceded by the word good or bad to indicate whether or not a behavior is socially acceptable.
Most people, at least in my day, use 'please' and 'thank you' as good manners when socializing with others. It seems to me that following the rules of the road is like using please and thank you, just good manners.
How many accidents are caused by drivers not following good manners while driving? What ever happened to 'Do unto others as you would have them do unto you?' Do you like people cutting you off, changing lanes without signaling or looking, not stopping at intersections or blocking them? Then why would you do that to someone else?
What has happened to manners in our society? Have manners become a thing of the past?
Until next time…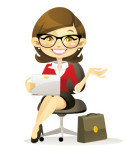 Geek Grandma
Filed in: misc Tags: #traffic • cheryl therrien • featured • grandmother diaries • grandmotherdiaries