Hair Color: Natural or Treated
It was the article on HuffPost50 that was the impetus for sharing my take on this with you now.
I have been pondering this subject for quite some time. The decision I made was a very personal one and in no way reflects on anyone else's choice for their hair.
Coloring
I have been coloring my hair since I was a teenager. As a teenager it was about experimentation and what was popular. As I grew older the reasons changed. Changing my hair color was like changing the paint color in a room in your house. New color new look. Tire of one color just try another. Then one day it became all about making myself look younger than I was. Yes. Coloring the gray. I actually began with blonde. Why? Because when the gray came in it blended with the blonde and did not stand out.
Chemicals
After years of coloring my hair my body began to protest. I started having adverse reactions to the chemicals. That's when I discovered natural hair dyes. They worked without the chemicals. I could continue my ritual to hide my gray without adverse reactions.
Trying on the Gray
One day a few years back I put off coloring my hair and let the gray come out of hiding. My husband asked when I planned to color my hair because it needed it. I mentioned not coloring my hair anymore and well… the reaction was less than enthusiastic. I colored my hair again and all was well on the home front.
Going Gray
It was not long after my grandson was born that I began to seriously consider really taking the plunge and not coloring my hair. You might think it was because I was now a grandmother and wanted to 'look the part' so to speak. Nope. Coloring my hair was just another time suck that seemed totally unnecessary. I was tired of coloring my hair. Why did I need it? My hair was making a lovely transition. Why shouldn't I welcome it with open arms?
Let me just stop here for a moment and explain how my hair is actually transitioning to gray. I have a very pretty platinum gray coming in, the kind people pay good money to have done by a professional. It is coming in framing my face and working its way back. The back of my head is still dark. It truly does look really nice. How do I know? My hair dresser mentioned this very thing to me. People pay her to give them the look I have naturally.
Embracing The Natural Me
I am aging. There I said it. I am not running from it. I have years of experience and the wisdom that comes as a result. It is that very wisdom that enables me to keep my thoughts and opinions to myself unless asked for them. Do you know how hard that is when you see someone making a mistake you have already made and you wish you could save them from it? Big sigh…
Have you noticed that I did not say I am getting old or feel old? I said that I am aging and embracing it. There is a difference. I do not feel old nor do I think I am any less capable. I am embracing a new phase of life. There is still so much to do and places to visit and more memories to make. The difference is that coloring my hair will no longer hold me hostage. "Can't go out tonight. I have to color my hair."
For me, natural is the path I have chosen to take.
Until next time…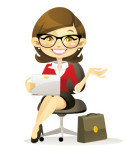 Geek Grandma
Filed in: Aging Tags: cheryl therrien • featured • grandmother diaries • grandmotherdiaries