Wearing Glasses is Cool… Now
Once again I find myself reflecting on a subject as a result of reading an article on HuffPost50.
Those who find themselves visually challenged enough to need prescription glasses have a much easier time today than in years past. Yes. I speak from experience.
I began wearing glasses when I was in 4th grade. That was at a time when it was not cool to wear glasses. 'Four eyes' became your permanent nickname. It was not used in a kind way. I was torn between actually being able to see and wanting to pretend that my new glasses were not actually needed. Did I mention that my new glasses were those they referred to as 'cat eyes'? Not at all flattering. There were no designer frames back then. No celebrities putting their labels on frames. To say the selection was limited is an understatement.
As the years went by my vision grew worse. Each new pair of glasses was thicker than the last. They finally became so thick and heavy that I had to move to plastic lenses.
As an adult my vision became more stable. I could actually go a couple of years before needing new glasses. Then one day Mother Nature dealt me another blow. I needed bifocals. At least no line bifocals were available so no one had to know unless I told them. Yeah, right. Have you ever seen anyone with bifocals read? You KNOW they are wearing bifocals, line or no line.
There were many drawbacks to having vision as challenged as mine was. I could not see any further than my hand in front of my face. That meant that when I went swimming I could not see where I was going nor could I see how to get back to the place I started. I cannot tell you how many apologies I had to make as a result of running into people while trying to swim. Seriously…
I became the master of coping mechanisms. If I had to go without my glasses, I had to carefully plan out my path for both getting to and from my destination so that no mishaps would occur.
One day I decided to be brave and check out lasik vision correction. I knew I was limited in my choices due to other physical abnormalities. If I chose to have the surgery, I would be far sighted and I would need to use reading glasses. This would be a huge change and a massive adjustment. I had been near sighted my entire life. Now I would need glasses to see things up close. My surgeon warned me ahead of time that this was going to be life altering.
I decided that I wanted to go swimming without the fear of running into people or losing my way back to my spot by the pool or on the beach. I went for it. I had the lasik surgery done.
The next few months were wrought with adjustments. My surgeon had warned me, but it was worse than I expected. I had to create new coping mechanisms. I did not need the near sighted coping mechanisms. I needed them for being far sighted. Now I never go anywhere without having a 5x magnification mirror. A simple thing like getting something in your eye now requires its assistance. It's all good.
Let me say now that having lasik vision correction does not stop your eyes from aging. Meaning, lasik does not last forever. It was 5 years before I needed glasses again. I could go get my eyes surgically corrected again, but my goal has already been accomplished. I can see well enough without my glasses to get around without worry.
Today wearing glasses is fashionable and cool and no longer looked down upon and made fun of. Works for me!
Until next time…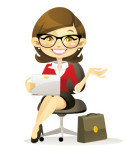 Geek Grandma
Filed in: Aging Tags: cheryl therrien • featured • grandmother diaries • grandmotherdiaries