The
National Eye Institute
defines Glaucoma as:
"Glaucoma is a group of diseases that damage the eye's optic nerve and can result in vision loss and blindness."
Per the Mayo Clinic:
"Glaucoma is one of the leading causes of blindness in the United States. Glaucoma can damage your vision so gradually you may not notice any loss of vision until the disease is at an advanced stage. The most common type of glaucoma, primary open-angle glaucoma, has no noticeable signs or symptoms except gradual vision loss.
Early diagnosis and treatment can minimize or prevent optic nerve damage and limit glaucoma-related vision loss. It's important to get your eyes examined regularly, and make sure your eye doctor measures your intraocular pressure."
In the absence of symptoms the only way to screen for glaucoma is to have an eye examination. That's one reason why having annual examinations is so important.
Glaucoma does not discriminate. It spans all age ranges. Although glaucoma in children is rare, about 1 in 10,000 births in the United States, it does happen. You can read about Christopher Wilmoth's story here. He has been living with glaucoma since he was 7 months old. He has normal vision in one eye and is legally blind in the other.
Glaucoma Research Foundation provides some interesting facts:
1. Glaucoma is a leading cause of blindness
Glaucoma can cause blindness if it is left untreated. And unfortunately approximately 10% of people with glaucoma who receive proper treatment still experience loss of vision.
2. There is no cure (yet) for glaucoma
Glaucoma is not curable, and vision lost cannot be regained. With medication and/or surgery, it is possible to halt further loss of vision. Since open-angle glaucoma is a chronic condition, it must be monitored for life. Diagnosis is the first step to preserving your vision.
3. Everyone is at risk for glaucoma
Everyone is at risk for glaucoma from babies to senior citizens. Older people are at a higher risk for glaucoma but babies can be born with glaucoma (approximately 1 out of every 10,000 babies born in the United States). Young adults can get glaucoma, too. African Americans in particular are susceptible at a younger age.
4. There may be no symptoms to warn you
With open-angle glaucoma, the most common form, there are virtually no symptoms. Usually, no pain is associated with increased eye pressure. Vision loss begins with peripheral or side vision. You may compensate for this unconsciously by turning your head to the side, and may not notice anything until significant vision is lost. The best way to protect your sight from glaucoma is to get tested. If you have glaucoma, treatment can begin immediately.
It is estimated that over 2.2 million Americans have glaucoma but only half of those know they have it.

(1)
In the U.S., more than 120,000 are blind from glaucoma, accounting for 9% to 12% of all cases of blindness.

(2)
Glaucoma is the second leading cause of blindness in the world, according to the World Health Organization.
After cataracts, glaucoma is the leading cause of blindness among African Americans.

(1)
Blindness from glaucoma is 6 to 8 times more common in African Americans than Caucasians.

(3)
African Americans are 15 times more likely to be visually impaired from glaucoma than Caucasians.

(4)
The most common form, open-angle glaucoma, accounts for 19% of all blindness among African Americans compared to 6% in Caucasians.

(5)
Other high-risk groups include: people over 60, family members of those already diagnosed, diabetics, and people who are severely nearsighted.
Estimates put the total number of suspected cases of glaucoma at over 60 million worldwide.

(6)
When my ophthalmologist wanted me to test for glaucoma I did not hesitate. My vision is much too important to me. The specialist completed all the testing and I received the 'all clear'. It gives me peace of mind to know that I have been tested and do not have to wonder or worry.
With all the advances in technology in the health field they can do so much more now than ever before. My eye testing involved the use of many of these technologies. I was able to actually see what my eyes look like inside and out. I was also able to see how I compare with the rest of the population. With the aid of technology it is much easier for medical professionals to not only do their jobs, but present the information to their patients in an understandable way. No more medical jargon getting in the way.
Have you had your annual eye examination? Have you ever been screened for glaucoma?
Until next time…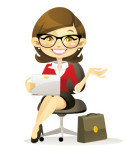 Geek Grandma
Filed in: Health Tags: cheryl therrien • featured • grandmother diaries • grandmotherdiaries • health