"If there's a book you really want to read,
but it hasn't been written yet, then you must write it."
By: Toni Morrison
I realize that this quote is unrealistic for those who are not writers, but it serves the purpose today.
After considerable research with disappointing results my husband and I came to the conclusion that if we want a decent AirFryer Cookbook then we would have to write it ourselves, thus the quote. The process has already begun. My husband is providing the recipes and I will provide the photography and the writing. Yeah, I get to put that new Canon camera to some good use.
We had hoped to have the cookbook ready by Christmas this year. That target was far too unrealistic. Watch for it some time in the Spring of 2015.
If you have an AirFryer and want recipes for it, let me know. Only recipes that we have tried and were successful with ourselves will be included in the book.
We love our AirFryer! Soon there will be a cookbook everyone can count on to be accurate and provide recipes that are both delicious and healthy.
Have you entered our $100 Giveaway yet? If not, go enter now.
Until next time…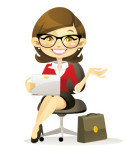 Geek Grandma
Filed in: Books Tags: airfryer • cheryl therrien • cookbook • featured • grandmother diaries • grandmotherdiaries