Let's have a discussion about bucket lists…
Have you ever made one? What was the purpose of your bucket list? Perhaps you made one when you were in school or in college; 'things I want to do before I start my career' or 'things I want to do before I have children'. There have been songs written patterned after the bucket list: Live Like You are Dying, or something like that.
Depending on your stage of life there are different reasons for creating a 'bucket list'. My husband and I are not creating a formal bucket list, but we are making decisions that satisfy those desires we would have put on that list.
As many of you know we just purchased a new car. It was not because we needed one. It was because we wanted one. Each of us had our list of what we wanted to see in a new car. Some things were important to me and not to my husband and vice versa. We ended up getting a bit of what we both wanted.
Check the new car off the bucket list.
We have also been busy making upgrades to our home. Some things we did because we needed to, but some things we did because we wanted to. The patio / deck was definitely not a required upgrade, but a desired upgrade.
Another item marked off the bucket list.
I will not keep noting the items that we would have on our bucket list if it existed. The point is simply that your bucket list will be different depending on what stage of life you are in and what is important to you at that stage. We are no longer caring for young children. We do not have to be concerned about saving for college.
Our mythical bucket list now contains things like 'where do we want to go for our next vacation?' We want to travel while we are still physically able. So many people save for retirement and then never get to enjoy it. We do not want to end up that way. We are not being stupid with our funds by any means. However, we also know that we can't take it with us. What is the point of saving for retirement if you never get to actually enjoy what you saved?
What's on your bucket list? Have you created a bucket list? Have you marked anything off of your bucket list?
Until next time…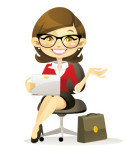 Geek Grandma
Filed in: Aging Tags: bucket lists • cheryl therrien • featured • grandmother diaries • grandmotherdiaries