Choosing a pillow seems like a simple and straight forward thing to do. For some that may be true. For people like me, it's anything but simple…
Petite Core
I have used a Petite Core pillow for many years. It is actually designed for a child. Yes. You read that right. It is designed for a child. Adult pillows push my head up to far and make for very uncomfortable sleeping.
As you know I have just returned from a vacation in Jamaica. The resort we stayed at actually had pillows that worked well for me. I slept great! When I returned home I found that I was waking with headaches. I was using the same petite core pillow, but it was no longer comfortable for me.
My husband told me that I had to do something to resolve this headache issue. He recommended that I visit a bricks and mortar shop where I could physically try out different pillows to find one that would work for me. I followed his advice and boy am I glad I did.
Gel Pillow
Memory Foam
Polyester Filled
Shredded Memory Foam
I tried all kinds of pillows, everything from gel to memory foam to fiber fill. You name it. I tried it. I had almost given up when the sales person brought me a pillow that contained memory foam 'pieces'. It literally is comprised of memory foam pieces – bits – and it was compact. I tried it. I got up and walked away. I came back and tried it again. I turned and turned and still I found it comfortable. I had found my new pillow!
The down side to this new pillow is that they are only sold in pairs. Big sigh… I purchased them anyway.
After using this pillow for a couple of nights now I could not be more pleased. I highly recommend visiting a shop that lets you try before buying. If you don't, I can see how you could end up investing a lot of $ just trying to find the right pillow; not to mention all those unrestful nights sleeping.
Have you found the experience of purchasing a pillow challenging? What did you do to find the right one for you?
Until next time…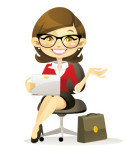 Geek Grandma
Filed in: Uncategorized Tags: cheryl therrien • featured • grandmother diaries • grandmotherdiaries • pillow