#PicGIF for Mac by #PearlMountain Technology
It has come to my attention that I have been quite negligent in posting app reviews lately. Today I rectify that with an app you may find interesting. This app takes your still photos and makes GIFs out of them. Yup. That's right. No special coding skills required. This app is for Mac users only. Sorry non-Mac users…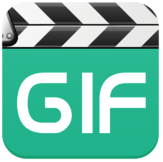 Coming to you straight from the PearlMountain web site:
Key features include:
Turn continuous snapshots to animated GIFs.
Re-edit existing GIFs. Adjust its size, speed and add text, etc.
Create GIF photo slideshows from your life photos.
Transfer short videos to smooth and animating GIFs.
Supports a number of file formats:
Support hundreds of image formats like JPEG, TIFF, BMP, PNG, TGA, RAW, PIC, etc. and any image size.
Support almost all common video formats, MOV, MPEG, MP4, M4V, 3GP, AVI and more.
Support to combine multiple formats, images, GIFs, and videos into a new single GIF.
Customizing features include:
Set GIF Size, Fill Mode, Frame Delay and playing Sequence.
Easily change the frame order by dragging.
With agile text editor, you can insert text and personalize its Font, Style, Size, Color, Outline and Shadow at ease.
Real-time preview of the GIF under editing.
So what did I make with this app? I took some photos that I had of my grandson and created a fun GIF with a text bubble.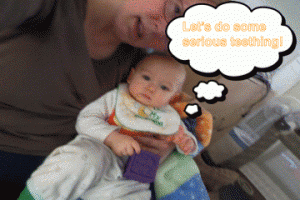 I adjusted the speed and text color. It has drag and drop so putting the photos in the order I wanted them was simple and quick. I sent it to myself via email and it worked great! The web site only notes that it can be shared via email and iMessage.
What's new in this version?
Add effects and adjustment features.
Support trimming video clip.
Add stickers.
Support managing overlays. Set start frame & end frame for overlays.
Add options for better quality export.
Share GIFs directly to Tumblr. (I'd like to see the ability to share via WordPress or even directly to Facebook or Google+)
Add support for German, French, Japanese, Simplified Chinese and Traditional Chinese.
New UI.
By reviewing this app I am doing something I typically do not do and that's review an app that is not free. I just checked the Mac App Store and it is selling for $4.99 at the moment. It also notes that the price will be going back to $19.90 soon.
**This app was provided to me by PearlMountain so that I could review it.
This really is a cool app if you are a Mac user. I hope that they expand on the sharing options in future releases.
This is a great way to update friends and family on what's happening. Email them a GIF of your kids, your family vacation, your child's sporting event, and anything else you want to share. Take all those still photos, or even videos, and make a GIF that will make everyone smile.
Are you a Mac user? Have you tried this app? What are your thoughts about how to make use of it?
Filed in: Apps Tags: cheryl therrien • featured • grandmother diaries • grandmotherdiaries