Go #Green & Save Money: Toilet
We live in an older home, like 1930's old. Since moving in we have been making some much needed upgrades.
Our latest upgrade is nothing exciting, but will save us money. New toilets. The dual flush kind. Press one for when you go number one. Press two for when you go number two. I thought that was a nicer way of saying 'you know what'. 🙂
Our sad old single flush toilets, who have been struggling, are finally being put out to toilet pasture. All attempts at keeping them going have failed.
Guts of old toilet going bye-bye.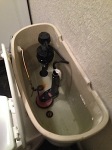 Installing dual flush toilets means using less water. Using less water means less money going to pay our water / sewer bill. We are kinder on the environment and kinder on our pocket book. It's a Win – Win proposition.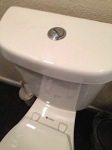 You might ask if they work as well as regular flush toilets. So far so good.
We even went for toilets that sit a bit higher so we don't have so far to go to reach the seat. We are thinking ahead to a time when we will appreciate that extra height.
We purchased Glacier Bay toilets from Home Depot. They are very reasonably priced, too.
We tried to purchase one-piece toilets, but the price tag was a bit too high for that one simple advantage (easier to clean). Two-piece works just fine for us.
Toilets are not something you replace on a regular basis. When you do, keep in mind what your future needs will be. Many of us will face physical challenges. Others may face financial challenges, like living on a fixed income.
Height
Easy to keep clean
Water efficient
Those are just a few things to keep in mind.
Until next time…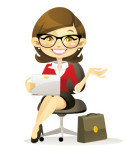 Geek Grandma
Filed in: Home Tags: #green • cheryl therrien • featured • grandmother diaries • grandmotherdiaries