Choosing a #Pet Sitter
As the owner of 4 pets – 3 dogs and a cat – finding a pet sitter can be a real challenge. Each pet has their own unique quirks and personalities. Add to that the fact that I have 2 'seniors', one of which has health issues, and the task becomes much more complicated.
I decided to make of list of what we needed a pet sitter to do. My thought was that we could eliminate anyone looking for an easy job. This was not going to be easy. My 'kids' need to go out for bathroom breaks at least 4 times a day. The first bathroom break comes coupled with pee pads and vinyl gloves for cleaning up the messes that my health challenged senior could not hold. Then she has to be coaxed outside using cheese with her meds hidden inside. Finally she has to be encouraged to actually leave the patio and do her business. Yeah, you get the picture. Not going to be an easy job for the pet sitter.
Kerri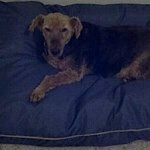 Cloe, our finicky cat, insists on drinking from the bathroom faucet to start her day. She will whine until she gets her drink. The water flow must be just right or she will continue to whine until it is.
Cloe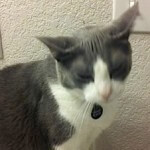 Feeding time is really challenging. Kerri must be locked in the bathroom with her food. If not, she will eat everyone else's food and then go back for her own. After all, food is always better if it's someone else's.
Zeus needs you to stand next to him while he eats and he needs you to keep telling him to eat until he is finished.
Zeus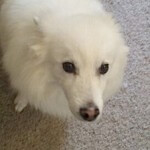 Fritz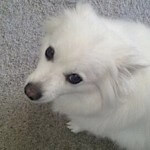 Once the boys have finished eating Kerri is released from the bathroom. Most times she will not have finished her food. She will then proceed to check the other food bowls for any left-overs. Once she is satisfied there is nothing left for her she will go back to her own food bowl and continue eating. Yeah, and that's just feeding time.
Evening time is treat time. Each gets several treats. I stand in the bathroom with Kerri and give each of the boys their treats so they can run off to safety to eat them. With the door closed Kerri gets her treats. Cloe is typically in the bathroom with Kerri and I and gets her treats at the same time.
By now you can begin to see the challenge in finding just the right pet sitter. Patience is required along with a willingness to deal with all the quirks and messes.
I decided to check out a service – Rover.com. After searching for sitters in my area I chose three possible candidates. I scheduled 'meet and greet' appointments so we could all meet each other and see how the 'kids' like them.
The first candidate was a 'no show'. I had to contact her to find out why. That one was eliminated without meeting her. The third candidate arrived late, getting lost trying to find us. Although she was nice enough she looked like a 'deer in the headlights'. The kids basically ignored her. She had no questions for me. My husband and I both agreed she was not the sitter for us.
The second candidate, yes I took them out of order, was perfect. She arrived a few minutes early. She was dressed for the occasion in jeans and boots. Perfect. She was very attentive. The kids loved her. She brought documentation with her to make sure we had everything covered, right down to what to do in an emergency. No wonder she had great reviews on Rover.com. She will even be providing photos and updates each day so we know how things are going.
Relief hit. We had found our pet sitter. Whew…
I will do a follow-up on this blog post once we have returned from our vacation and can assess how things actually turned out.
Until next time…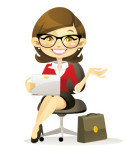 Geek Grandma
Filed in: Pets Tags: cheryl therrien • featured • grandmother diaries • grandmotherdiaries • pet sitter