#Companion Gardening
In an effort to reduce and / or eliminate chemicals and yet keep pests under control I have invested many hours into researching Companion Gardening. Companion Gardening serves more than just that one purpose. Some plants when located next to each other actually help each other grow. The colors create a lovely contrast and you have a garden that is not just healthy, but beautiful.
One book I have found particularly helpful is 'Great Garden Companions' by Sally Jean Cunningham.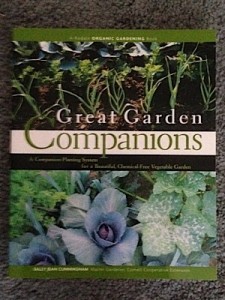 Sally has included some very helpful tidbits along with different planting design ideas. For example: 'Ring Around The Peppers' shows you a DIY to help protect plants against the cold nights. Sally offers ideas for bringing in the good insects as well as ideas for dealing with the unwanted insects. There are great illustrations for clarification.
Sally groups plants by 'neighborhoods'. Taking this idea and applying it to raised gardens should prove helpful in much the same way. Even the type of ground cover each neighborhood works best with is covered.
To give you an idea of what you will find in this book I have taken a photo of the Table of Contents.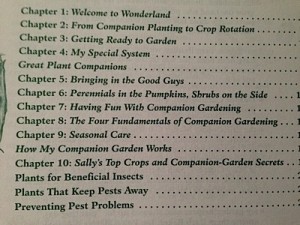 Overall I think that anyone looking to begin companion gardening, for whatever reason, would find the book a helpful resource.
Have you read this book? If you have, did you find it helpful? Is there another book on companion gardening that you would recommend?
Filed in: Books • Healthy Gardening Tags: featured