#Citronella Plant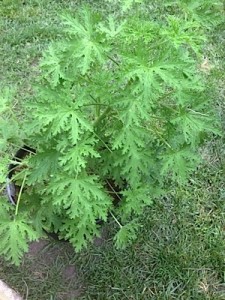 It's that time of year again. The weather gets warmer and the pests come out to play. That usually means that we humans are the target of their play. We make a lovely feast for all those pests.
This pest problem has resulted in a multitude of products whose sole purpose is to keep those pests from feasting on us.
I will be honest. I had never heard of a citronella plant before I purchased one for our new patio deck. OK Make that 4 plants purchased. I decided to treat theses plants as if they are citronella candles and place them accordingly. Did I mention that they actually have a lovely citrusy scent? So even if they don't work as intended, they will still look and smell nice.
I will also fess up and admit that I also have the citronella candles as my backup plan, just in case the plants don't work as intended.
Are you familiar with the citronella plant? Do they actually work like the candles or are they just another pretty scent?
Filed in: Garden • Healthy Gardening Tags: cheryl therrien • garden • grandmother diaries • grandmotherdiaries