Let's talk about goals. When does a goal become 'unattainable'?
I get daily writing prompts delivered to my email inbox. Today I received a prompt to write about an unattainable goal. This led me to wonder about just when a goal becomes unattainable.
Possible reasons / excuses why a goal is unattainable:
You lack of funds
You are too old
You are too over weight
You lack the skills
You are not smart enough
I could go on, but you get the idea. I will admit that there are probably some goals that will be unattainable. But if that is the case, then why are they on your list of goals? Isn't the point of goal setting to set goals you can actually accomplish?
Per Wikipedia:
Goal setting involves establishing specific, measurable, achievable, realistic and time-targeted (S.M.A.R.T ) goals.
They call them S.M.A.R.T. goals for a reason.
Whether your goal is business related or personal in nature we should all strive to set S.M.A.R.T. goals.
What happens when you set unattainable goals? I will let you answer that question for yourself.
Do you set goals? What is your purpose for setting goals? Are your goals attainable? If not, why? Do you use an app for setting goals?
Until next time…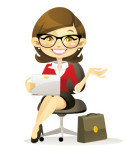 Geek Grandma
Filed in: misc Tags: cheryl therrien • featured • Goals • grandmother diaries • grandmotherdiaries