UPDATE:
I thought you might be interested in the outcome of this little experiment. Although it was a nice idea the outcome fell short. The problem? I had the TaterPot outside in my garden. We have had enough rain that the soil in the pot never dried out. The result: rotting potato seed. The pot appeared as though it should drain well, but that was not the case. Perhaps under different conditions it may have turned out differently.
Conclusion : If I want to grow potatoes, I will plant them the old fashioned way – directly in the ground.
The TaterPot is probably not what you are thinking. I was in the gardening department of Walmart, yes Walmart, and this product caught my eye.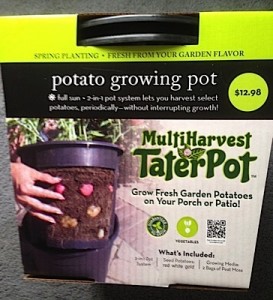 I was standing there looking at it when another lady commented on it. We both thought the same thing: Cool idea if it works. I decided that for $13 it was worth an experiment.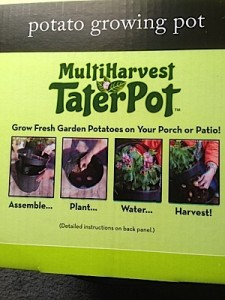 It's a pot within a pot. It allows you to harvest before it's harvesting time. What's in the box?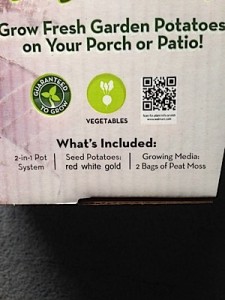 You get 3 types of seed potatoes: Red, White and Gold. You get the pot system and 2 bags of Peat Moss.
Now this product is intended for those looking to grow potatoes on their patio or porch or whatever. Since I am planning to do mostly raised bed gardening, this product should fit right in.
Have you ever seen this product before or anything like it? Have you used anything like this? How did things work out?
Filed in: Adventures In Gardening Tags: featured