Purchasing a #Car: Want Rather than Need
Unless you are a collector you probably don't buy a car just because you want to. There is typically a need for purchasing a car. My husband and I don't fall into either of those categories and yet we are considering purchasing a car. Why?
As most of you already know my husband and I are techies. We like to purchase the latest and greatest tech whether we need it or not. How does this apply to purchasing a car? Our current vehicle is a 2008 model. We do not have GPS or BlueTooth or backup camera or any of the other latest and greatest features that today's vehicles come with. My view is that if we are going to trade in our perfectly good vehicle for a new model then it needs to have all those features ours does not. My husband just wants a new car. He does not care about those features that are important to me.
To be clear, we are only window shopping right now. Therein lies the dilemma. Do you know how difficult it is to window shop for a car when the employees working at dealerships are so desperate to sell you a car that they will not leave you to shop on your own? The atmosphere is thick with stress, so much so you can cut it with a knife. To top it all off most of the people working at dealerships have little knowledge about the cars they are trying to sell you.
We do our research and only then do we make contact for more information.
You may find this difficult to believe but dealerships have actually outsourced some of their customer contact mechanisms. We visited a website to find additional information about a particular vehicle. A chat box appeared asking to help us. When we entered the question we wanted answers for they immediately asked for our contact details. We asked our question again without giving our contact information and we were told that they could not answer. They are an outsourced firm used only to obtain contact information for the dealership.
I think there should be an option for purchasing a car directly from the manufacturer. People like us who do their research and know more than dealership employees would find this a much better option. Dealerships can exist for those people who want someone else to do the work for them. It's interesting that the laws that exist now actually prohibit people from purchasing from the manufacturer. Too many middle men would be cut out of the equation and so their cut of the sale would be eliminated.
I have no idea if we will actually purchase a car. What I do know is that I am glad that we don't NEED a car so we can walk away from this research at any time. Both my husband and I agreed that we have to take frequent breaks from our research. Why? It is stressful and frustrating not to be able to get straight answers or useful answers. How can you make a decision under those kinds of circumstances?
During the course of writing this post we test drove 2 cars – the Honda CR-V and the Ford Escape. The Honda had excellent ratings on everything including safety. The Ford had basically the same features that were important to me and the dealership is close. Yeah, that last one was stretching it but it's the truth.
Honda has this price match guarantee, much like Walmart. Show them the deal another dealership offers you and they will meet it to get your business. Obviously we used that to our advantage and ended up with a great deal. Yes. We purchased the Honda CR-V 2014. We did not purchase the version with the Navigation. We do have blue tooth so we can link our phones and use Google Maps as we always do. I love that I do not need a headset to make a call. I can do it through the car.
What we found interesting about purchasing a car this time versus any other car we have purchased in the past is that they actually took us through the dealership to meet everyone. Seriously… We have never experienced that before. A bit of a nice touch.
Now we all know my photography skills pretty much suck, but I wanted to share a few photos of the car to satisfy your curiosity. It has a lovely metallic paint.
Here it is parked next to the neighbor's house.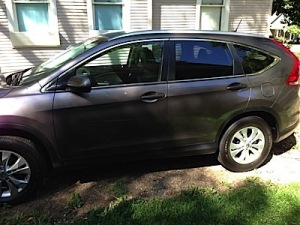 Heated black leather front seats. Cold weather is coming.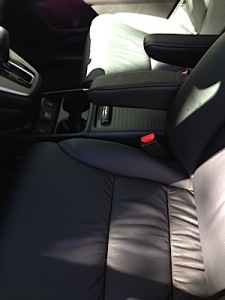 Leather passenger seats that fold down completely for extra cargo room.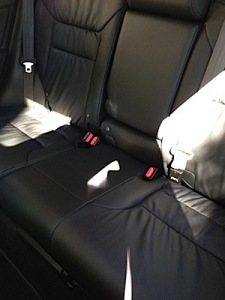 Lookin up through the Moon / Sun Roof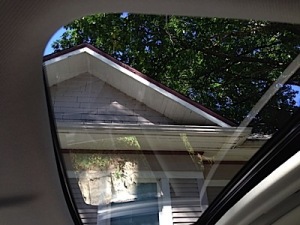 Dashboard.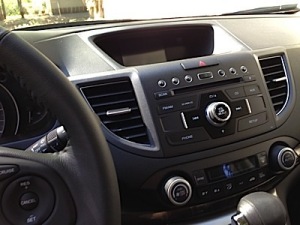 Phone controls on the steering wheel. I love this!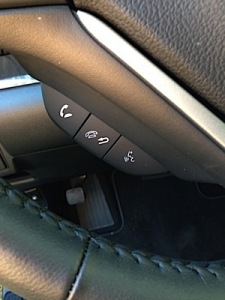 It has an 'Eco' button to help save gas, too. It can tell you if your driving is fuel efficient or the opposite. Independent climate control is really handy – I like it warmer and hubs likes it cooler.
For those of you who are interested in power… Yes. This baby has all the power you need when you need it.
You get the idea. We are enjoying it. 🙂
When was the last time you purchased a car because you wanted to rather than because you needed to?
Until next time…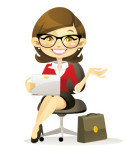 Geek Grandma
Filed in: Home • Technology Tags: cheryl therrien • featured • grandmother diaries • grandmotherdiaries