This was originally a paid post when it was first published. I have since moved house and the idea of 'aging in place' has come to mind again. Why? Because I do not want to move again for many years, if I ever move again. The products this firm produces are both safe and affordable. They are also aesthetically pleasing. They meet all my requirements for upgrading my bathrooms for 'aging in place.
#PremierCareinBathing Products: Safe & Affordable
**Thanks to Premier Care Bathing for sponsoring today's discussion
Aging In Place
Planning for your senior years also means planning to 'Age in Place' for as long as possible. 'Aging In Place' is becoming very popular and much easier to do now. The longer I can stay in my own home the better it will be on my emotional well being and my finances. It seems to me that if we plan for 'Aging in Place' before we actually have those needs then the financial burden of making those changes to our homes won't hit us all at once. With bathing products like those Premier Care provides even people who in previous years would not have the choice to stay in their home now have that option.
Have you thought about how you can make changes in your home to meet your future needs? It's certainly been on my mind. We have been doing a considerable amount of remodeling in our home since we moved in, bearing in mind ease of use, convenience and safety. Planning to 'Age In Place' includes making changes that will enable us to stay in our home as long as possible.
Between my husband with his bad back and me with my early stages of arthritis we will be continuing to make changes to our home for 'Aging In Place' and that includes bathroom upgrades. He likes a bath and I like a shower. Good thing we have two bathrooms in our house! Although I must admit that I do enjoy a nice soaking bath every now and then.
Consider Premier Care Bathing Products
We can all benefit from Premier Care Bathing products like these now, before we actually 'need' them. Think about those lovely bubbles produced by the bathtub and think about relaxing your muscles. Those who have health needs, like me, would surely benefit from using one of these products as well.
Notice this shower has a seat for those who cannot stand for the length of time required to bathe. The shower has enough room to sit or stand comfortably.
Innovative Shower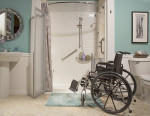 They have a number of configurations. Their In Home Assessment will help identify which one might be appropriate for your bathroom.
Walk In Bath tub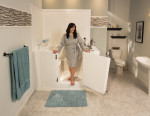 A few items to consider when choosing a product like those from Premier Care:
They are family owned since 1985
They are largest manufacturer of Walk-In Baths and Easy-Access Showers in the world
They received the "Ease-of-Use Commendation" from the Arthritis Foundation of North America
They are Arthritis Society approved, which is Canada's largest health related organization for people with limited to severe Arthritis
They are also preferred partners with the American Veterans Association (AMVETS)
All those things inspire confidence, at least for me.
Per their website:
Many of our customers have told us that in addition to having their bathrooms beautifully remodeled, their lives have been transformed! Our Walk-In Baths and Easy-Access Showers are easier to get in to and out of and are safer to use with our easy to reach grab bars.
For our customers who have trouble standing for long periods of time, our Easy-Access Showers offer ample room to stand as you are able, while the fold down seat provides security and comfort when you are not.
Think you can't afford one of these products? The Premier Care website boasts payments as low as $150 per month.
There is a ton of information on their website to address questions and concerns. A FREE In-Home assessment will help you choose the product(s) that is right for you.
Don't wait until you actually need a product like this to do your research. My motto is 'Be Prepared'. Being informed is the best way. Consider these products for yourself, or perhaps for a loved one. I know my mother could have used one of these when her mobility became an issue.
Safety, reliability and peace of mind. That's what comes from having a bathroom remodeled with Premier Care. Having a beautiful bathroom is the icing on the cake.
Your Thoughts
Head on over to their website and take a look. You might be pleasantly surprised. Come on… you know you are curious. Go take a quick peak and then let me know what you think in the comments below.
Until next time…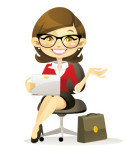 Geek Grandma
Filed in: Aging • Home Tags: aging in place • cheryl therrien • featured • grandmother diaries • grandmotherdiaries • premier bath