Nursery Additions: Decor
L has been busy working on the nursery as the arrival of our precious bundle of joy draws closer. If you remember from the last post regarding the nursery, it is a space theme. L made this creation from gift wrap and felt. Yeah, I know. She can take anything and make it look good.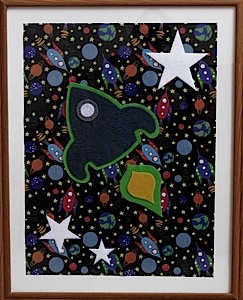 L is also stenciling the walls. The stencils are drawn and ready to be painted.
The crib is now all decked out and ready to be used.
There are a few items still needed but I expect they will be taken care of during the baby shower. Unfortunately, I cannot attend so there will be no pictures or stories about how fun it was and all the gifts they received. Big sigh… I will just have to settle for hearing about it after the fact.
Do you remember the first time you set up a nursery for a baby? Or maybe you helped a friend or relative set up theirs. What kinds of things did you do?
Don't forget to follow Grandmother Diaries via Geek Girl on Facebook and Twitter. Subscribe to Grandmother Diaries by Email