Finger Puppets In A Pouch: Product Review
Grandmother Diaries was recently contacted by 'Indigenous Crafts from Bolivia' out of Canada asking if I would consider doing a review of one of their products. They participate in Fair Trade so I was more than happy to say 'yes'.
Finger Puppets In A Pouch is meant to be used in conjunction with reading a book or story time. There are 6 themes: Farm, Jungle, Arctic, Garden, Woods, and Ocean. These sets consist of a zipper top bag that contains 8 fingers puppets that can be snapped to the front of the bag as a visual aid for story telling.
I received the Ocean themed set.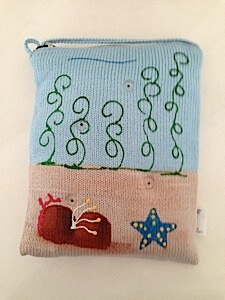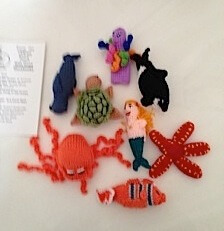 See the plastic snap on the back.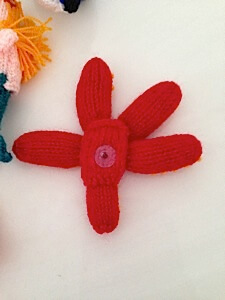 There are 4 snaps on the front of the bag to attach the puppets with.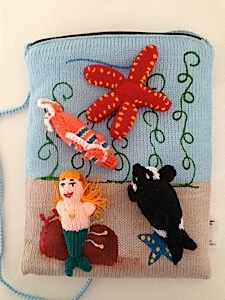 The pouch also comes with a list of suggested books for that set.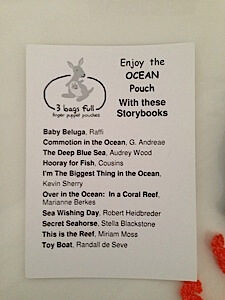 You also get this lovely brochure.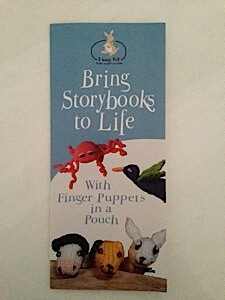 This product really brings story time to life. The finger puppets can be easily shared since there are 8 in a pouch. Put 2 on each hand and have them wiggling while telling the story. It's like the puppets are telling the story. You can snap them on the bag to enhance the story. Create different scenes by using different puppets.
You can use their list of suggested books, or use your own. Either way these puppets enhance the whole reading experience. We want our children and grandchildren to grow up to be readers. What better way to encourage that than to use these playful puppets? The zippered pouch keeps them all together until the next story session.
Encourage reading and literacy while supporting Fair Trade. I urge you to check out this product by visiting Indigenous Crafts from Bolivia.
* Caution: Not for children under 3 years of age.
Don't forget to follow Grandmother Diaries via Geek Girl on Facebook and Twitter. Subscribe to Grandmother Diaries by Email
Filed in: reading • Reviews Tags: finger puppets in a bag • product reviews