Me & My FitBit One
*Disclosure: I received my FitBit One & Droid Razr Maxx HD smart phone along with 6 months of service in exchange my honest opinions.
I have long been a fan of the MyFitness Pal app. It has helped me track my caloric intake in my efforts to manage my weight. The drawback to the app is that you have to manually enter your exercise and hope you recorded it correctly. The FitBit One fills the gap nicely. Just clip it to your waistband or your bra strap using the included clip and it will record every step you take, every move you make… sounds like the lyrics to a familiar song. If you prefer, you can use the armband that is also included in the package.
At any point in my day I can know how many steps I have taken and how many flights of stairs I have climbed just by clicking the button on the FitBit One. This then helps me determine how many more steps I need to meet my fitness goals.
The FitBit One synchs automatically using the FitBit Connect app and the USB dongle. There are apps for both Android & iPhone smart phones that will tell you at a glance all the information that is important to you. The app also tells me when my FitBit One battery needs charging. Nice bonus!
Did I mention that you earn badges as you complete your fitness goals? To date I have earned 4 badges. Are the badges necessary? No. But they are fun to earn. If you have to exercise anyway, why not have a little fun while you're doing it? How long will it take you to earn the next badge? Don't forget to tweet it to all your friends so they can share in your accomplishments and help encourage you to keep going.
Here's a sneak peak at what mine looked like: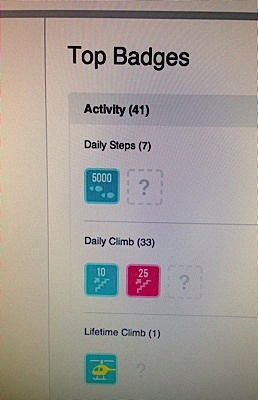 I start my day by clipping on the FitBit One. You can have the FitBit One track your sleep, but I have chosen not to do that. My FitBit One stays in place until I shower in the evening. Almost every step I take throughout my day is counted. This is very empowering when you are trying to manage your diet and fitness.
For those of you who walk or run and get caught in the rain on occasion or you work up a good sweat at the fitness center, the FitBit One is sweat and water resistant. You can't take it swimming with you, but you don't have to worry about a little moisture.
I love how my flower grows throughout the day!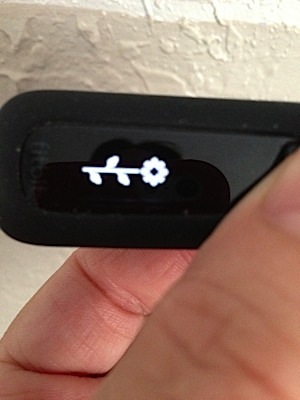 Me & my FitBit One are becoming close friends.
Many thanks to Verizon for my Fitbit One. I love it! 🙂