LifeSpan TR200 Compact Treadmill: Healthy Walking
Most of you already know that I fall into the 'Boomer' category when it comes to my age. As each year passes by I become more aware of the things I need to do to stay active and healthy. I want to age well.
Before we moved into this house we lived in a very 'cozy' house. There was barely enough room for the essentials much less anything else. The house we live in now gives us considerable breathing room by comparison. This house has an unfinished basement that we plan to finish into at least 3 rooms.
Where is all of this going? I am a walker. However, I find that walking in less than ideal weather is not something I care to do. That means I do not get to walk on a regular basis. I also do not care to use a fitness center. I am much too inhibited. I know. I am finicky. Because our new house has this lovely large basement that will one day be a finished basement I actually have room for a treadmill.
LifeSpan TR200
In steps my new treadmill. I purchased this LifeSpan TR200 from Amazon for several reasons:
It has a small footprint
It comes already assembled
It can be stored upright in a closet or slide underneath a bed
Before I purchased this treadmill I did my research. I research everything before I make a purchase. This one met all my requirements. I did not have to spend any time with assembly. That is a huge bonus for me. It is made for walking. I don't need a treadmill you can run on, although I could. I am a walker. Running is not my thing. I can adjust speed and incline through the console and not have to manually adjust anything like so many other treadmills require. It also stores easily either vertically or horizontally.
Per Amazon:
Fully assembled treadmill that folds compactly and fits under bed or in closet

Blue LCD console tracks your time, calories, distance, steps, speed, and incline

Quick-start speed and incline buttons; 3 speed and 3 incline programs

Built-in speakers and headphone port; contact heart rate grips

Measures 30.5 x 51.5 x 60.5 inches (W x H x D); lifetime frame warranty

2010 Treadmill Doctor "Best Buy" Award Winner; 2010 Fitness Professor "Best Treadmill Under $1,000" Award Winner
Investment in Health
As someone who has some physical issues beginning to appear I view this purchase as an investment in my health. I am in a constant battle with cholesterol. It is genetic for me. Exercise is a good way to help keep it under control. I also have arthritis beginning to make an appearance. You have to keep moving to keep it under control. Walking is heart healthy, too.
Although I have only had this treadmill for a few days I can say that I am pleased with it so far. It does everything I want it to.
If you are thinking about making a treadmill purchase for yourself, you will want to purchase a mat for it to sit on and the silicone for the belt maintenance. The mat protects your floors.
Do you have a treadmill? Do you use a fitness center?
Until next time…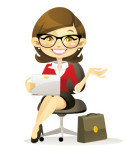 Geek Grandma
Filed in: Health • product review