Hot: Photo Transfer App
*Disclaimer: I received my Droid Razr Maxx HD along with six months of service from Verizon in exchange for my honest opinions.
I was an Android phone user and then switched to iPhone 5. Why? To make my blogging work easier, specifically working with photos. iPhone 5 has the Photo Stream option and I have a Mac computer. This means that when I take a photo it is automatically on my Mac and ready to edit.
With my previous Android phone I used the free PicSay app to send photos to myself and then save them for editing. Without PicSay the photos were just too huge to send to myself. It would take hours just to send one photo. Seriously…
When I received this Droid Razr Maxx HD from Verizon one of the first apps I installed was PicSay. The photos I take I have set up to backup to Google. However, I still have to download them to edit and use. I found using Picasa just painful to use so I gave up on it entirely.
Photo Transfer App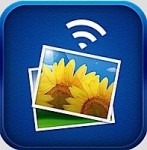 The Amazon App Store has a free app offered each day. Recently they had a free app called Photo Transfer App. It was free (normally $1.99) so I went for it. This app uses a companion app for your computer. The companion app is free. Interestingly enough it works for both Windows & Mac.
You open the app on your phone and on your computer. In your app on your computer you choose your device.
App on computer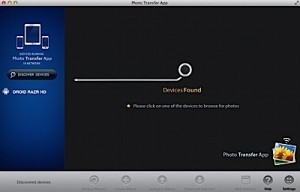 The app on your phone telling you to open the computer app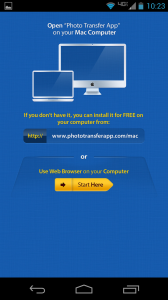 Choose your type of computer or device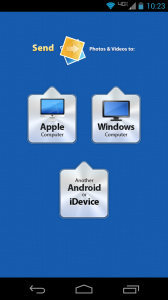 You then authorize the connection on your phone
– you only have to do this one at setup – and voila!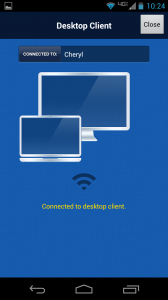 All the images stored on your phone appear
in the app on your computer.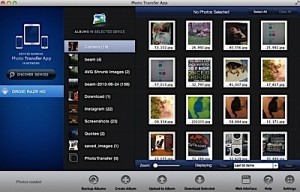 You select the ones you want to download and where you want to store them, click the download button and they are all there! So quick, simple and easy. I love it!
Most everyone knows that I do not pay for apps. However, this one is so good that I would actually pay the $1.99 regular price just to have the convenience this app offers.
What app(s) do you use to transfer photos for editing?