Happy 'Grand'Mother's Day!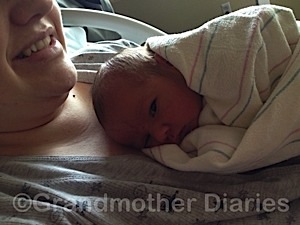 Wishing mothers and grandmothers alike a wonderful day! I know I am early but I wanted to share 2 very special events with you. The birth of my first grandchild, and the book written in his honor has been published.
Although my mother has long since passed on this day is special to me this year because I am now a grandmother. Just when you thought things could not get any better than the day when your child was born, you hold your grandchild in your arms for the first time and fall head over heals in love again.
The book written is now available on Amazon. Get it on Amazon Kindle or in paperback. If you are a Prime member, you can borrow it for free. If not, the Kindle version is only $0.99.
So it's a celebration day for mothers and grandmothers alike.
Happy 'Grand'Mother's Day!
Don't forget to follow Grandmother Diaries via Geek Girl on Sign up for updates by email! and Twitter. Sign up for updates by email!
Filed in: Books Tags: happy mothers day • letters from grandma