Google: I am Un-friending You
Yes. You read that right. I am un-friending Google. Yes. This is a bit of a rant.
For years this blog had a Page Rank of 3. It held up through all the Google algorithm changes that have taken place through the years. Then the latest update happened – Hummingbird. Sounds lovely doesn't it? NOT. Suddenly this blog has a page rank of 2. I have done nothing different. Perhaps that's the problem. I am not following what Google says I must do so I must be punished.
I decided to try an experiment. I signed up for Google Adsense for this blog. I was approved during the first step. And then I was turned down. Why? I do not have enough text on my blog. Yes. Let me repeat that. I do not have enough text on my blog to be approved for Google Adsense. Seriously…
Who are the creative genius's and decision makers who come up with these seemingly arbitrary rules? Give them a raise. They are certainly good at making their followers lives miserable trying to please them.
While I do use some of Google's services, because… well… they are just good services, I do not have to play the rest of their game. I will continue to manage this blog, and its lack of text, my own way. Page Rank will not be a factor in any decision I make regarding this blog. Gone are the days of me trying to please Google. There are plenty of other people out there still trying to please them so they will never miss this blogger.
Here's a thought: What would happen if everyone just decided to ignore Google and do things their own way? What a radical idea! People would be publishing blogs without attempting to please Google. Yeah, I know. The world might come to an end.
End of rant.
Until next time…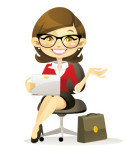 Geek Grandma
Filed in: Blogging Tags: cheryl therrien • featured • grandmother diaries • grandmotherdiaries