#Garden Compass: App Review
As you know I am currently reviewing gardening apps in hopes of finding some useful ones. What I have found so far is that there are a lot of apps our there that are not worth the time it takes to install them.
One app I think may have some potential is 'Garden Compass' for iPhone & iPad. Here is a snapshot of the opening screen: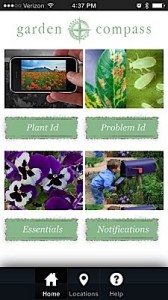 The first two options are the only ones that interest me. Take a look at the next screen shots.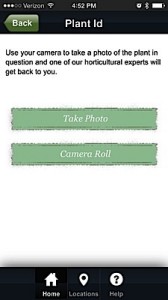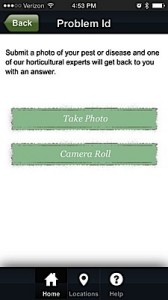 You can take a photo of a plant you need to identify and submit it. The same goes for a problem you may be having with an insect or disease. According to the reviews I have read you actually do get a response from a qualified person, and in good time. Yeah, I know. I find it hard to believe myself. I have not tried it yet, but I intend to.
This is a FREE app.
Do you use an app that will provide you with answers like this one does? Let me know what it is so I can try it.
Filed in: Apps • Healthy Gardening • iPad apps • iPhone app Tags: cheryl therrien • featured • grandmother diaries • grandmotherdiaries