Willie Stewart: Author Interview
Meet Willie Stewart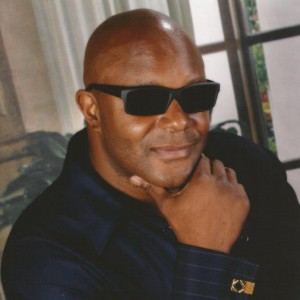 What is the title or working title of your current book?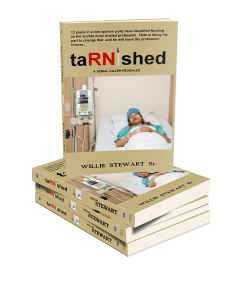 The title is taRNished. I started out with a title of prolific killer but since I am a Registered Nurse for the last 14 years I wanted to play on the initials RN. I love the show HawthoRNe with Jada Pinkett-Smith and that is where the concept came from.
Please provide us with a brief synopsis of your of your book.
Dale Wilson starts his career as a RN by accidentally killing a patient, and the rush he gets from the act wets his appetite for more. Not only that, but his mother (Isabel), a nursing assistant, joins him in these acts at the same hospital in an effort to protect him from getting caught. Dale falls in love with a Respiratory Therapist and starts to show her more attention than his mother. Mom becomes jealous and believes that the girlfriend is up to no good and sets out to get rid of her. Of course this puts Dale and mom at odds. Will mothers love trump the new love in his life or will someone lose big?
What genre does your current book fall under?
taRNished is a stand alone novel that falls under the genre of Medical Thriller. A sequel is being developed along with a TV pilot that is written already. Even though the TV pilot is based on the book, it would probably be classified as Drama because it is akin to Showtime cable TV's Dexter meets cable TV's Nurse Jackie which are both drama's.
Do you always write for the same genre?
This is my first undertaking doing a novel, but I have written a movie script and co-written a comic book, along with the TV pilot based on taRNished. So, I guess the answer to that would be no. I played Dungeons and Dragons as a kid so I have a vastly wild imagination and story ideas always pop up. I really wish I could do it as a sustaining full time job, but Nursing pays the bills.
Who or What motivates or inspires you to write?
First and foremost, my wife of 24 years, Shannon Stewart inspires me and motivates me to write. I remember when she went blind (before her vision came back) I wrote my first song called "He took away her sight so I could see." I had long before fancied myself an able writer but was never motivated to try to take it to the next level. My daughter Briana is an excellent writer but had that same lack of motivation so I wanted to try to motivate her by pushing forward with my own projects. Lastly, my grandson William Stewart motivates me. I have two other grand kids but William lives with me and got one of the worst starts in life a kid could have and the lord blessed us to be in a position to be able to step in and make a difference. He started out developmentally delayed through neglect but you can't see that now for the most part. I am determined to make sure he has a great life because he was my first grandchild and he is my namesake.
Tell us about your writing background.
Professionally it has consisted of writing press releases and a few articles here and there dealing with the music industry because I have a record label and publishing company (2MCH4YA – pronounced too much for ya). I learn on the fly. My grandmother called me a jack of all trades and I try to live that. I write what feels good and try to stick with some convention so that it is professionally acceptable and then I hire people (editors) to help me polish it. Usually only takes me one time to figure out the formula on what works once someone shows it to me.
How long does it typically take you to write a first draft?
I don't know that I do it that way. I guess a draft is when you have completed something and you go back and revise it. If that is correct I have never written a first draft in that sense. For taRNished, I took three months to develop the two lead characters. I gave them mental health diagnoses and kept a diary of dialogue between me and the characters. Just regular everyday stuff that helped me flesh them out so they felt real. By the time I finished I had some story arcs already developed. It was an intense process keeping all that inside and trying to genuinely develop an internal dialogue with them. By doing that I think I can connect with regular everyday people a lot easier in my writing. I tested the theory on co-workers and let them read some character sheets (kind of like Dungeons and Dragons on steroids). I had some male coworkers who don't like to read who couldn't put them down and it was the same way with the chapters. So, when I started the chapters I only wrote when the urge hit me and then I started and didn't stop until finished because the dialogue felt like it was always there. I would take breaks away from working on the novel and work on the TV pilot or the comic book or the movie script…..always keeping my mind fresh with something that stimulated this process, but I always moved forward and never looked back. Doing it this way I had to trust my editor to make sure I didn't slip up on story elements or arcs and keeping things in the right voice etc. For the most part, I nailed it. So no time frame on a first draft because I just don't write that way.
Do you employ an editor to assist you in your writing process?
I call him an editor but I don't know that it is an official title. He was a consultant who advised me and taught me as I took this journey and I paid him for his services and those services sometimes went beyond just simple editing. He taught me the proper way to put together a TV pilot. We took my rough idea and episode along with the characters I developed and co-wrote the TV pilot. So, I don't employ an editor in that sense.
Are you self published or represented by an agency?
I am self publishing taRNished through my own imprint, 2MCH4YA Publishing. My paperback book is on sale for preorders on Amazon, there will be a kindle version on the release date. I have it on Barnes and Noble for Nook Bookers to pre-order. I have it in the Apple I-Book store for iPads and iPods and it will soon be in the KOBO store for all other tablets all for preorder prior to my March 1st release date. At that point it will be everywhere else.
Do you have future projects we can look forward to?
I developed and co-wrote a comic book called D.I.V.A. Team. Diva stands for Dissociative Identity Villain Acquisition. The lead character is loosely based on my oldest daughter and her music career. The parents thought the child had multiple personality and it was really her power manifesting into four distinct beings that each has it's own power and personality. My oldest daughter is William's mom so I am thinking about writing him into the comic. I have written a movie script based on the comic book as well. In addition, I have slowly started toying with character development for taRNished 2 and fully co-written the TV pilot for taRNished based on the book. Like I alluded to earlier, you have to just get on board because this train keeps moving and lots of great things are coming down the pipe…..and we haven't even discussed music but that is always waiting in the background as well.
Do you have tips or advice to offer fellow writers?
You have to back determination up with maximum effort and be satisfied with no result. If you can make yourself stomach that then you will love what you do and your efforts won't be in vain. If you are looking for the golden ticket then stop. You suck the life out of your works and people see right through that and won't support it. If your passion is on display then you will find support. Also, you have to be more than just a writer to succeed. You have to be a blogger, a promoter, a fan of others, a sponge so you can soak the world in and a megaphone so you can spit it back out. Being heard about other things will eventually get your writing heard by people who are listening who might not otherwise be listening specifically for your writing. In other words…..get in the relationship building game.
Is there anything else you would like to share with your potential readers?
Well, I may not ever have a bigger forum than this so I will take advantage of it right here and now. If you read my book know that I bring a passion to it that is unexplainable. Know that my wife and soul mate for the last 24 years is my inspiration and I do it for her. If you are a fan of love infused into works in this world…then I am the author for you. I love me some Shannon Eureka Stewart and it is because of her that you now have a world class novel before you.
Tell us how we can connect with you in the world of social.
I'll do you one better and you pick any you want to list. A marketing guy blogged about my press release and said I am doing something that hasn't been done before. I have integrated my lead character into social media, so on any given day you might connect with either me or Dale, RN in the following manner:
Social Media integration of Dale, RN:
http://youtu.be/XHDvk6fIrX8
http://youtu.be/ufKK1U_5ZKE
https://www.goodreads.com/giveaway/show/77030-tarnished
http://www.amazon.com/gp/product/ASIN/0991367707
http://www.amazon.com/-/e/B00HLO5J4U
https://www.smashwords.com/profile/view/willstew1968
https://www.goodreads.com/author/show/7728955.Willie_Stewart_Sr_
http://www.goodreads.com/story/show/334043-tarnished – excerpt
#/DaleTarnishednovel
#/DaleTarnished
http://pinterest.com/tarnishednovel/
dale@tarnished-novel.com
http://www.prweb.com/releases/2013/4/prweb10655822.htm
http://mi2n.com/press.php3?press_nb=163677
http://feeds.feedburner.com/tarnishedblog
flickr: taRNished Dale foursquare:
https://foursquare.com/user/55082578
googleplus: Willie Stewart
http://blaiselucey.com/2013/05/01/persona-book-marketing/
http://www.linkedin.com/profile/view?id=121986173
Filed in: Author Interviews Tags: featured