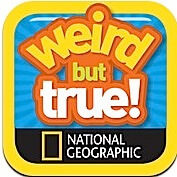 National Geographic has a fun app for iPad and iPhone that will test the knowledge of both youngsters and adults. It has received lots of fanfare –
* Winner of Spring 2012 Parents' Choice Funstuff Award * New York Times App to Keep Kids Happy * Chosen as App of the Week, New & Noteworthy, What's Hot, and Staff Favorite by Apple * per iTunes
Here are just a few of the fun facts this app has in store for you as per its description:
"Did you know a hippo's lips are about two feet wide? Or that didaskaleinophobia is the fear of going to school? Or that before toothpaste was invented some people cleaned their teeth with charcoal?"
I love that one about hippo lips! 🙂 Now you know why the app is called, "Weird But True".
This app is free and available via the iTunes store. Give it a try and let me know what you think of it.
Don't forget to follow Grandmother Diaries via Geek Girl on Facebook and Twitter. Subscribe to Grandmother Diaries by Email