We all know what is good for us and what is not, at least for the most part. Putting what we know is good for us into practice is another matter entirely. It is easy to fall into what is convenient rather than what is good for us. Our society enables this behavior by providing us with convenience everywhere we look.
Food is one of those areas where convenience abounds. When you shop for groceries the isles contain canned food, packaged ready to cook pasta, ready to eat bread products, ready to eat dinners …you get the idea. Most of us never read the labels on those products. We never read those words we can't pronounce nor would we know what they meant if we did read them. Most of us are not aware of all the chemicals we are ingesting so we can enjoy the convenience of those foods. The FDA says that these chemicals are not harmful at the level contained in those products. They don't tell us what happens to us if those chemicals decide to accumulate in our systems. They don't want other countries, like China, adding nasty chemicals to our products, but they do it themselves consistently and without calling our attention to it.
I am not going to discuss fast food. No need…
Why am I focusing on this topic? Because I am experiencing some health issues for which they have yet to identify the cause. What I have found is that eating dairy, fat and oil are all bad news. This means no milk, butter, margarine, meat, or anything with fat or oil content. Anything that would aggravate a symptomatic gall bladder. The tests have indicated that the gall bladder is not at fault. So while it walks like a duck and talks like a duck, it's not a duck.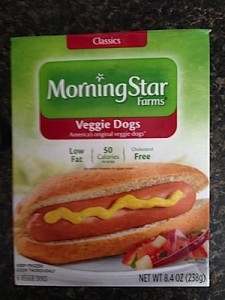 I am maintaining a diet mostly void of meat and dairy. I have discovered that non-meat products from MorningStar are actually not all that bad. While going entirely organic would be better, I am not there yet. To make a meal I am adding frozen vegetables that have no added sauce and I am heating them in the microwave, eating them plain – no butter or margarine.
I have known for some time now that I needed to make changes. This health issue is forcing my hand. I am giving up my favorite snack chips, something I should have done a long time ago. No chocolate. So much for that relationship. I still have fruit so I don't miss having desert.
While I have used herbs for many years to address health issues, I have not faced this type of issue. One of the basic tenets of identifying an issue is to break it down to the most simple factors first. By taking the measures I am taking now, I can add a food to the mix and know if it is an offender by the way my body reacts to it. One step at a time. It takes longer to identify, but there is no doubt when you find it. Stop eating meat, then add a few ounces of fat free chicken and see how my body reacts.
So this health issue is taking me down the road of unplanned lifestyle changes. Yes. It will be lifestyle changes so I don't end up taking this same path again in the future. It will be a much healthier lifestyle and that will be a good thing.