My good friend Susan Cooper of Finding Our Way Now will be contributing some of her wonderful and easy to make recipes periodically. Today she is going to start us off with Super Easy Peanut Butter Cookies. Yum… 🙂 Enjoy!
Here is Susan –
My favorite cookie is peanut butter. So when I saw this recipe my first thought was "No Way". I had to try them and dang it if they weren't the best ever. The best part is that they couldn't be any easier.
I found this recipe in a tiny little cookbook called "Our Favorite Quick & Easy Recipes from Gooseberry Patch". There was no tweaking this one. How could I?
Super Easy Peanut Butter Cookies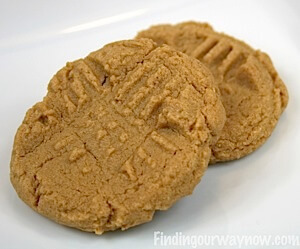 Ingredients:
1 cup Creamy Natural Peanut Butter
1 cup sugar
1 large egg
Directions:
Preheat oven to 350 degrees. Blend the ingredient together. Let the mixture stand for about 5 minutes. Using a small ice cream scoop or large melon baller, place cookie dough balls about 2 inches apart on a un-greased baking sheet. Use a fork to create a crisscross pattern on the top of each unbaked cookie. Bake for 10 to 12 minutes. Let cool on the baking sheet for about 5 minutes and then transfer the cookies to a wire rack to finish cooling.
Notes: You can use other kinds of peanut butter and it will work just fine. I just prefer the natural brand. It really important to leave the cookies on the baking sheet for that 5 minutes, so don't skip that step.
So as you can see, this recipe really did work! These are so easy your kids will love helping you make these. All you need is milk, and you are good to go.
So here's my challenge for you. Get yourself into the kitchen and give these a try and let me know what you think. Enjoy!
Thank you Susan! What did say? Wonderful and easy! Even I can make these. What beter way to spend time with your grandchildren than making cookies?
Do you have some recipes that you enjoy making with your grandchildren? Please share them us.
Don't forget to follow Grandmother Diaries via Geek Girl on Facebook and Twitter. Subscribe to Grandmother Diaries by Email