Moving House…
As many of you already know I have spent the last week moving house. My husband and I have moved many times so we are pretty good at it by now. We are pretty ruthless at dispensing of what we really don't need so that it does not have to be packed and unpacked.
Why did we move? I wanted to be closer to my grandchildren. My first is expected to arrive in just a few short weeks now.
One benefit of moving is that I / we usually end up with something new. In this move I ended up with a new desk. It was a nightmare putting it together, and I am really good at such things. The reason I chose the desk I did is because it is part of the same collection as my standing desks. Now everything goes together and looks good together. Why did I get a new desk? The old one will not fit in my new office space. The room is like a loft and has low slanted ceilings. No way my old tall desk has a place in it.
Admittedly it is all a bit of a mess yet, but at least I can work now.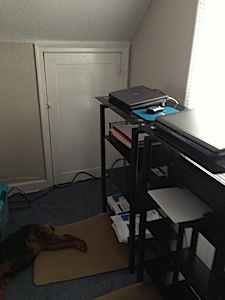 I also ended up with a new wireless printer. I have wanted one for a long time now. 🙂
I am really far behind on commenting on other blogs. Truth be told I have not commented on any blogs during this past week. All my energy has been invested in getting my office, and house in general, up and running again. I thank you for your patience and I most especially thank you for continuing to comment despite my absence.
Don't forget to follow Grandmother Diaries via Geek Girl on Facebook and Twitter. Subscribe to Grandmother Diaries by Email
Filed in: misc Tags: moving house