Midnight Velvet Sapphire Quilt: Product Review & Giveaway
Disclosure: I received this Sapphire Quilt in exchange for my honest review.
That being said, I also have some exciting news for you! Midnight Velvet and Grandmother Diaries are teaming up to give one lucky reader a $50 Gift Card to use on the Midnight Velvet site so you can purchase your own fabulous Midnight Velvet products! Very cool… How do you qualify? Subscribe to this blog and then leave a comment below and tell me what you would like to purchase if you won. Last date to sign up is 8/15/2013 at 12 pm CST. Winner will be announced on 8/16/13.
**Open only to US residents with a US postal address
This beautiful Sapphire Quilt arrived in almost as beautiful a box. Well done Midnight Velvet! I tried to get a closeup of the logo… My photo does not begin to do the box justice.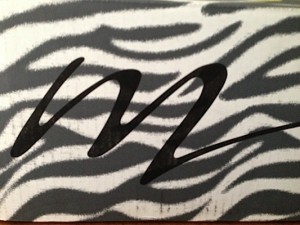 This Sapphire Quilt is made from fabrics that are different colors as well as different textures and they compliment each other well. The dark blue is a velvety fabric while the light blue is a shiny smooth feeling fabric. Add the contrasting yellow / gold to the mix and you have this beautiful quilt. It is well made and a real show stopper. Both beautiful and functional. You will have no trouble wanting to sleep in a little longer under the cover of this comfy cozy quilt!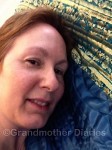 Midnight Velvet has everything from clothing and shoes to makeup and jewelry to items for the home. You will have no trouble at all finding something you like. Think Christmas and gifts… Yes. I realize it is only August. But many of us work on our lists well ahead of time. 🙂
If it has the Midnight Velvet label on it, you know it is good quality.
Be sure to follow them on their social outlets so you can be the first to find the best deals at Midnight Velvet!
Facebook #/ShopMidnightVelvet
Twitter #/ShopMV
Google+ http://gplus.to/MidnightVelvet
YouTube http://www.youtube.com/user/ShopMidnightVelvet
BeautyBlog http://www.mviebeautyblog.com/
Pinterest http://pinterest.com/shopmv/
m.vie Mineral Makeup Facebook #/m.vie.maureen
Filed in: NaBloPoMo • product review Tags: featured