Letters From Grandma: Before You Were Born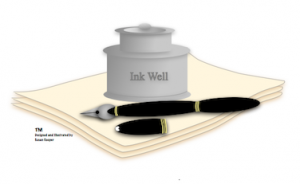 Are you ready to read some letters from a first time grandmother to her soon-to-be-born grandchild? It's almost that time! Finishing touches are in process now.
If you follow this blog, then you have a good idea of what these 'letters' will be like. You will see the art work of Susan Cooper from Finding Our Way Now. She was kind enough to create the cover as well as the inside piece that notes the beginning of each letter – shown above.
I hope you will join with me as I celebrate the beginning of this next phase of my life. As soon as I have a link for the book I will post here and on our sister site Geek Girl USA.
Don't forget to follow Grandmother Diaries via Geek Girl on Facebook and Twitter. Sign up for updates by email!
Filed in: Books Tags: books • letter from grandma