Independence Day Dessert Recipes
I subscribe to Kraft Recipes. Their most recent newsletter contained some recipes I thought I would pass on for the July 4 holiday. You know me. Simple, easy, quick – all important code words for me if I am going to 'cook' something. It's not that I cannot cook. I just don't like to cook. My husband loves to cook so it works out well. 🙂
Kraft always has good recipes, but these are Independence Day holiday themed so I thought I would share. I encourage you to check out their site for lots of great cooking ideas. Each photo recipe (I took screen captures) is clickable to take you directly to that recipe on the Kraft site.
On to the recipes –
JELL-O Easy Patriotic Pie
Facebook
JELL-O Easy Patriotic Flag Dessert
Twitter
Patriotic Layers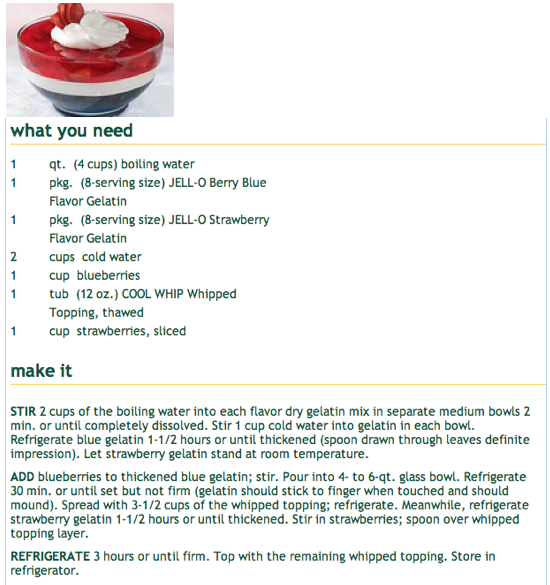 Do these look both delicious and fun? I thought so! 🙂
Enjoy!
Don't forget to follow Grandmother Diaries via Geek Girl on Facebook and Twitter.
Subscribe to updates by email

Filed in: Holiday • Recipes Tags: july 4 recipes • recipes