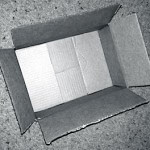 Now that the holidays are finally over did you find that your young grandchildren liked playing with the boxes their toys came in more, or the toys inside the boxes more? When my son was very small those boxes held more fascination than the precious gifts they held. He eventually grew out of that of course, but it was fun to watch while it lasted.
The bigger boxes were the best. You know the ones. They were either big enough to crawl inside or they could wear them on their head. At that age where they love peek-a-boo the boxes are especially fun. Now you see me. Now you don't. Wrong, but amusing.
Boxes certainly sparked the imagination. They could become a spaceship and take my son to far away places, or something as simple as a watch tower to look out at whatever he imagined was there to look at. There were always crayons involved in making the box look the part.
Boxes provided countless hours of fun. Once the boxes were worn out then the toys that came in them finally got some attention.
Do children these days view boxes in the same way? Since the introduction of tablet computing have boxes lost their attraction? I would love to hear about your experiences.
Don't forget to follow Grandmother Diaries on Facebook and Twitter. Subscribe to Grandmother Diaries by Email