Chocolate Cherry Candy Mice: Recipe
Another fun recipe from Susan Cooper at FindingOurWayNow. It was originally intended for the holidays, but I think it would be great fun any time of the year. 🙂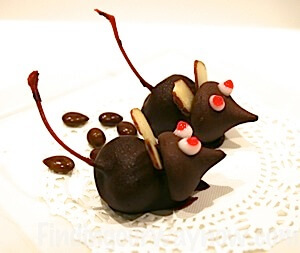 This is just the most fun to make. I found this recipe in the Betty Crocker Halloween Cookbook. The kids will just love this.
Chocolate Cherry Candy Mice
Ingredients:
1 cup semi-sweet chocolate chips
2 teaspoons shortening
24 maraschino cherries with stems, well drained
24 milk chocolate kisses
48 almond slices
White & Red decorative icing or gel tubes
Directions:
Line a baking sheet with parchment paper. Melt the chocolate chips and shortening in a small pan over very low heat until smooth. To make each mouse, hold a cherry by the stem and dip into melted chocolate, swirling to help smooth out the coating. Set on parchment paper and press a chocolate kiss opposite the stem (stem acts as the tail of the mouse). Carefully insert 2 almond slices between the cherry and chocolate kiss. Create 2 white icing dots with red icing centers for eyes. Refrigerated until set. Store in an airtight container.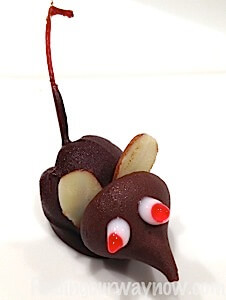 Notes: You can use a toothpick to create the dots for the eyes. You may leave off the eyes if you choose; they're just as cute. You create your own icing for the eyes by using a plastic bag with a small cut corner to pipe, or a toothpick to create the icing eyes on the mouse.
So what do you think? Any time of the year is a good time to have fun with these, right? Enjoy!
Don't forget to follow Grandmother Diaries via Geek Girl on Facebook and Twitter. Subscribe to Grandmother Diaries by Email
Filed in: Recipes