A very good friend of mine gifted me with a Breville Personal Pie Maker for Christmas. I had no idea just what a wonderful and valued companion this little device would become in our household. The first time I used it I followed the manual to the letter. Then when I realized just how easy this thing is to use, I filed the manual away and have not looked at it since. Seriously…
I am not a photographer so please excuse the poor photos. Getting better at taking photos is on my list of 'To Dos' this year. 🙂 I already have a certain camera on my Amazon wish list.
The handle on the Breville does not get hot and it has a latch to close it for cooking and for storage. The machine itself DOES get hot so no touching when cooking.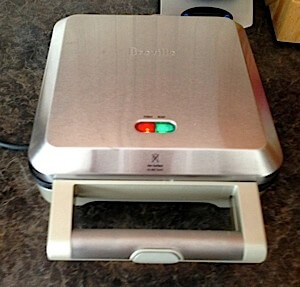 The pie maker has 2 lights on it. Red for when it's turned on but not ready to cook yet. Green for when it's ready to cook.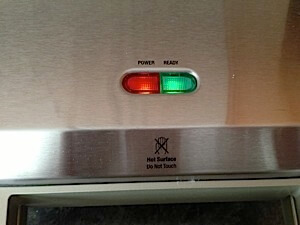 The Breville open.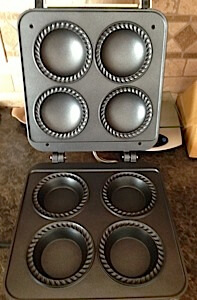 Breville Tools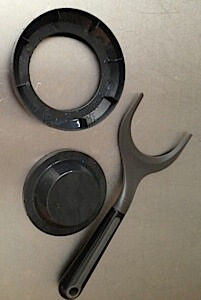 The Breville tools are really the key ingredient for making the pie maker successful. The tool at the top of the photo is the cutout tool. One side makes the bottom and the other side makes the top. The next tool down the left side of the photo makes the bottom press exactly right in to the Breville. No messing around. The last tool – that long forked thingy – is what lifts the finished product out of the Breville in perfect shape. I must confess that I had serious doubts about that particular tool. So many things could go wrong. I have made many pies now since receiving this and did not have a single problem with any of them.
One thing I have learned that I have never seen mentioned is that different fillings cook at different rates. For instance: Peach filling cooks at a different rate than cherry filling. So the key is to make all 4 pies with the same filling. I thought fruit was fruit, but not when you are making pies with the Breville.
Another of the key factors in working with this pie maker is to keep your pie crust chilled. If you do that, it will work great.
So there you have it. My review of the Breville Personal Pie Maker. I love it! This is an activity I plan on sharing with my grandchildren. 🙂
How about you? Have you ever used one of these pie makers? What are your experiences with it? Is this an activity you have shared with your grandchildren?
Don't forget to follow Grandmother Diaries via Geek Girl on Facebook and Twitter. Subscribe to Grandmother Diaries by Email
Filed in: Breville • Reviews Tags: breville pie maker