Author Interview: Janna Yeshanova
My Interview with Janna
What is the title or working title of your current book?
I am working on a collection of stories intended as a sequel, but I do not have a title for it. I have another book that I am working on that is related to my work a leadership trainer.
Please provide us with a brief synopsis of your book.
Serge and Janna's chance meeting at a Black Sea beach sparks a passionate romance and a quick marriage. Serge's parents, suspicious of Janna's motives and heritage, force him to break up with her. As the Soviet Union collapses, revealing ethnic and social pressures, each faces danger separately. Serge drowns in self doubt, his life spiraling down and in. Janna plots a dangerous exodus to America with her mother and daughter. Years pass, stirring old emotions, and changing circumstances give their love a second chance.
What genre does your current book fall under?
Romance, Historical Romance, Epic Historical Romance
Do you always write for the same genre?
I am a Life Coach and a Leadership Trainer. I never thought about writing. Although I should say I was just thinking about it. I had in plan a totally different book, a book that comes from my work experience. I was planning to use some materials that are included now in Love Is Never Past Tense. And then, the current book just happened!
Who or what motivates or inspires you to write?
My life, my observations, events in my life that generate strong emotions.
Tell us about your writing background.
None! Short stories. My first degree is in Russian Language and Literature. So, I am assuming that the path to this book started back then: event wise and choice wise 🙂
How long does it typically take you to write a first draft?
Not that much. Can't give definite hours, days, minutes.:) It's important for me to have a draft while the emotions and facts are fresh, and everything I am writing about is vivid. Later, all these variables fade and if I do not put them "on the paper" they are gone.
Did you employ an editor to assist you in your writing process?
Yes, I had three editors going through the book after the book was translated. First of all, I was afraid to lose the juice of the Russian language. You know the book was translated from Russian. So, my poor strong editors had to fight with me for almost for each paragraph.One of the editors was a guy with a PhD in English who was teaching English at a university, the other editor was a lady, who works as an editor in a huge nationwide company. The third editor was trying to agree with the first two and with me. During our working time together I thought they hated me 🙂
Are you self-published or represented by an agency?
I am self-published under my own company Life-Spark, LLC
Do you have future projects we can look forward to?
I am thinking about publishing a sequel for Love Is Never Past Tense and I started work on a book on overcoming adversity.
Do you have any tips or advice to offer fellow writers?
Me? Tips? Let's see… I'd say this tip is not only for writers: never give up what is dear to you! Get what you want… what you really want and do not share it with those who will rain on your parade 🙂 Do not exaggerate obstacles: seek opportunities.
Is there anything else you would like to share with your potential readers?
I want my readers to enjoy Love Is Never Past Tense, learn from it, compare their experiences with the experiences described in the book and see how they can change their life if they feel that the change needed. It's never too late 🙂
Oh yes! I do want to add something else: I am wishing lots of Love to everybody who reads this page and everybody who doesn't. Love – is life! Love – is progress! And you know: what can be better than Love?
Tell us how we can connect with you in the world of social.
Sure! I'd be glad to!
So, the book website is www.loveisneverpasttense.com
My business website is www.life-spark.com
I can be found on Facebook as Janna Yeshanova, also, #/loveisneverpasttense and #/lifesparkllc
If my readers want to connect with me on FB, I'll be glad to accept them in my FB community, they can wite me on FB or send detailed message to one or both of my sites. I think, FB is the most convenient way. I am looking forward to hearing from you! 🙂
About the Author
Originally from the former Soviet Union, Janna Yeshanova escaped to the United States when persecution became violent during the crumbling of the Soviet state. Arriving in the United States with her mother and daughter in tow, $126 in her pocket, and knowing not a soul, Janna's talent and experiences have helped her become a high-end organizational training and development professional. Her exodus story is included in the book.
Founder and principal of Life-Spark, LLC, Janna is a dynamic and powerful life coach, premier trainer and motivational speaker. She leverages her passion and engaging style to help others overcome adversity and spark the possibilities of their lives.
**Click on the link to enter the Rafflecopter Giveaway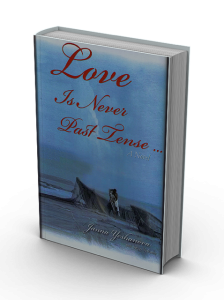 Blurb Love is Never Past Tense
The events described in the book occur amidst complicated changes in the political and economic system of the former Soviet Union. In this period of great turmoil, for the country and the people, a period of many broken destinies, the book weaves its story within the discord of the country. Fear is growing, an animal fear. There remains only one way, emigration. This is the same thing as evacuation without bombing and without the ability to come back, the author writes. You cannot give a better definition. The rest you need to read. Because of this, the book delivers multifaceted, versatile content in huge volume to the reader's range of vision. In some special moments, the author makes us breathless, frantic with worry, and hoping to relax if a satisfactory solution of the situation arrives.
Love Is Never Past Tense… was published first in Russia and Ukraine in 2009, and is now available in English. It is a fascinating, adventurous, historical romance based on a true story.
Buy Links for Love Is Never Past Tense:
Autographed copies at Love Is Never Past Tense Website
http://www.loveisneverpasttense.com/order
Amazon (paperback, hardcover, or Kindle)
http://www.amazon.com/Love-Never-Past-Tense-ebook/dp/B00CIF3KT8/ref=sr_1_1?ie=UTF8&qid=1374610100&sr=8-1&keywords=love+is+never+past+tense
Barnes & Noble
http://www.barnesandnoble.com/w/love-is-never-past-tense-janna-yeshanova/1105141989?ean=9780983746218
Ebook formats available at:
Ebookit
http://www.ebookit.com/books/0000002009/Love-Is-Never-Past-Tense.html
Kobo
http://store.kobobooks.com/en-US/ebook/love-is-never-past-tense
Google
https://play.google.com/store/books/details/Janna_Yeshanova_Love_Is_Never_Past_Tense?id=bfaXthm0aMgC
Ingram (Diesel)
http://www.diesel-ebooks.com/item/9780983746232/Yeshanova-Janna-Love-Is-Never-Past-Tense…/1.html
Filed in: Author Interviews • Books • NaBloPoMo Tags: featured