Reminder : For your chance to win a $20 Amazon gift card all you have to do is subscribe to this blog by email – use the link at the bottom of the post or the 'subscribe by email' at the upper right side of the page – and leave a comment on the giveaway post telling me you subscribed . That's all there is to it!
We will announce the winner of this weeks Amazon gift card on Friday. Good luck!
And now…
Today it gives me great pleasure to introduce Anne Newsome of Flayve. She has kindly consented to provide this guest post today.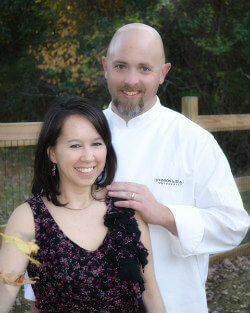 She and her husband have published a cookbook called "What to Cook For Dinner for Picky Eaters".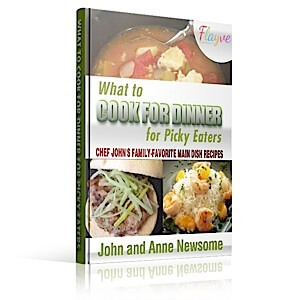 Tell me that title doesn't have you wanting to buy it immediately. I will be publishing their story on Geek Girl USA so watch for it. And now I will turn this over to Anne…
The Greatest Gift a Grandmother Can Give a Picky Eater Grandchild
I want to first of all thank Cheryl for having me here with you today. I must say I am a bit jealous of your grandchildren! You see, I did not get to experience having a close relationship with a grandmother. I was blessed to have my Paw-Paw, but I have seen grandmas interacting with their grandchildren and I know what a special relationship it can be. Your grandchildren are so blessed to have you in their lives!
Let's take a brief walk down Memory Lane, shall we? Think back to the moment you first learned you were becoming a grandmother. How was the news broken to you? What was your first thought? How did you feel? Did you have an immediate preference to have a grandson or a granddaughter?
An Italian Proverb says, "If nothing is going well, call your grandmother." I see this between my children and their Nana. They can be in tears over something, but if we pick up and call Nana everything changes! I can only imagine the joy that must come with the news that you are about to become a Grandmother!
As much excitement as the news is, the actual day your grandchild is born must bring the same emotions ten-fold! You get to meet and hold this tiny human being, the most beautiful baby you have ever laid eyes on. And oh, yes, you can see some resemblance of yourself in some of that precious one's features.
Your thoughts, at some point, turn to the life ahead of this child and all the hopes and dreams you have for him (or her). You want the absolute very best for your grandchild. You begin thinking about all the things you can do with your grandchild, all the things you can give to him (or her).
Of course, you know in your heart that the greatest things in life are not things, and the greatest thing you could ever give is your love! But what exactly does that look like?
Time. Hugs, lots and lots of hugs and kisses. Attention that Mom and Dad aren't always able to give as much as they'd like because of all the demands of providing for and raising a family. Grandparents are perfect at helping to fill in that gap!
Have you ever thought about this one, though? What about supporting Mom and Dad as they seek to raise that grandbaby in the best possible way?
You have such a wealth of wisdom from years of experience raising a family and learning some of life's hardest lessons. You remember the challenges that come with raising children. Those days when the children were constantly at each other's throats and all it seemed you got accomplished was mediating or fussing at someone. The battles at bedtime and meal times.
Did you have support from your parents and/or your in-laws? If not, did you wish you'd had it? If you did, you know how grateful you felt to have it. Either way, you can give that support as an expression of the love you have for your grandchild (and your child and son or daughter-in-law) and wanting the very best for them.
My husband and I are raising our 6-year-old son and our 2-year-old daughter. We are blessed by supportive parents on both sides. One of the biggest areas we have sought their support is in our efforts to provide our children with a healthy, well balanced diet. Just like most children, our two can be picky eaters!
What makes this challenge even more difficult at times is that they both have some food sensitivities. Eating certain foods can cause our son's eczema to flare up and our daughter to not sleep as well that night.
What we have learned, though, is that regularly trying new recipes helps us to find new favorites for them. We have what I call a regular rotation of favorites that we know they eat well, and then we try new recipes as often as possible to help us discover some new favorites to add to the growing list.
There is a trick, though, to trying new recipes! This is something we learned from the Nutritionist. The trick is that when trying new foods, it is important to keep two things in mind:
1) Children generally eat what is familiar, and so if they "reject" something new, it could simply be because it is new rather than something they do not like. Research has shown that it can take up to 15 exposures before a food becomes familiar! Yes, 15!
2) When trying something new, make sure to serve alongside with something familiar you know the child likes. This way, you know the child is getting some good nutrition for that meal even if they don't eat much of the new food.
Today, we have a recipe to share with you that is a family favorite and one both of our children will eat well. And even better, it cooks in the crockpot so it's super easy and convenient, and it includes protein, a whole grain and a vegetable!
Creamy Curried Chicken Noodle Soup
Prep Time: 15 minutes
Cooking Time: Low 4 hours; High 2 hours, plus 15 minutes on low
Serves: 6 (8 ½-cup servings)
1 10 ¾-ounce can condensed cream of chicken or celery soup
1 cup water
2 teaspoons curry powder
1¼ pounds skinless, boneless chicken thighs, cut into ¾-inch pieces
2 cups sliced carrots
2 cups peas (we use frozen)
1 13 ½-ounce can unsweetened coconut milk
In a 3 ½- or 4 ½-quart crockpot, combine soup and water. Stir in curry powder. Add chicken and carrots. Stir to mix.
Cover and cook on low-heat setting for 4 to 5 hours or on high-heat setting for 2 to 2 ½ hours. If using high-heat setting, turn to low-heat setting. Stir in coconut milk and peas. Cover and cook for 15 minutes more. Ladle soup into bowls. If desired, garnish with peanuts and/or coconut.
We hope you and your grandchildren enjoy it as much as we have!
BIO:
Anne Newsome is a Wife, Mommy to a 6-year-old son and 2-year-old daughter, an Author and a Granddaughter. She and her husband, John, a Chef trained by the prestigious Johnson and Wales University Culinary Arts program, have co-authored What to Cook for Dinner for Picky Eaters to share recipes, tips and resources they have found most helpful as parents in addressing the picky eater phases of childhood. You can visit their website, Flayve.com, for ideas for good recipes to try with your family or connect with them on Facebook.
Don't forget to follow Grandmother Diaries via Geek Girl on Facebook and Twitter. Subscribe to Grandmother Diaries by Email