Almost every grandparent enjoys spoiling the grandkids when they come to visit. It is a way to enjoy being around the young without the pressure of raising them. Instead of spoiling these children with sugary snacks, why not switch to a healthy alternative? Not only can you make it feel like you're still spoiling them, but the children could be just as satisfied with a nutritious snack as they would be with cookies and cakes. How can you get them excited about eating healthier treats?
1. Don't Call it Healthy – Many people, both young and old, have a fear of anything that is labeled as healthy. Some believe that the worse a food tastes, the better it is for you. That's not true in the slightest. In fact, a small cup of sweet pineapple or strawberries can be very good for the taste buds and the health factor. Fruits are loaded with anti-oxidants and rich in vitamins – not to mention a natural sweetness that has less of a chance to add to a waistline.
2. Make it Fun – Although a bag of grapes can go a long way with a child, there is nothing to say that you can't make it fun. Jell-O is used in many diets because of the fact that it has little content that can be damaging to your body. Include cherries, pineapple, oranges or grapes, and you have a "blob that ate the fruits." One of my favorites is that of pineapple chunks in orange Jell-O.
3. Experimental Recipes – There are many ways you can prepare fruits and vegetables for snacking. Many of them require very little effort. My own children enjoy dipping sliced mushrooms in low-fat ranch, for example. Ants on a Log is a treat for many as it requires celery, peanut butter and raisins – an incredibly healthy and protein rich snack. You could even try throwing raw broccoli and cauliflower in the mix. Although many cooked vegetables are actually healthier for you when they are raw, any kind of vegetable is better than none.
4. Grow it Yourself – It's always fun for children to eat the produce they grow themselves. Not only is this a healthy snack when the fruits and vegetables become ripe, but it's also more organic than you may realize. Unless you're using pesticides and hormones in your planters, the grandkids can eat healthier snacks than they probably have in their day to day lives. Some of my fondest memories were of helping my grandmother in her garden and eating raisins made from her grape vines in the food dehydrator.
5. Don't Buy Sugary Snacks – If the cookies and cakes are not in the house, there is no temptation. Not only is this a good move for your grandkids, but it can help you eliminate temptation yourself while eating healthier. As you age, it's going to get more difficult to keep yourself fit. Including more fruits and vegetables can go a long way to being around for the great grandkids should the day come.
In reality, children can be very easy to coax into eating fruits and vegetables. Some children will actually choose oranges over chocolate bars – as mine do. If you provide an alternative, the odds of them eating it are greatly increased. Give them the option and see for yourself the difference it can make for them physically and mentally.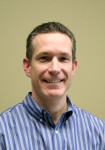 Ken Myers is a father, husband, and entrepreneur. He has combined his passion for helping families find in-home care with his experience to build a business. Learn more about him by visiting @KenneyMyers on Twitter.